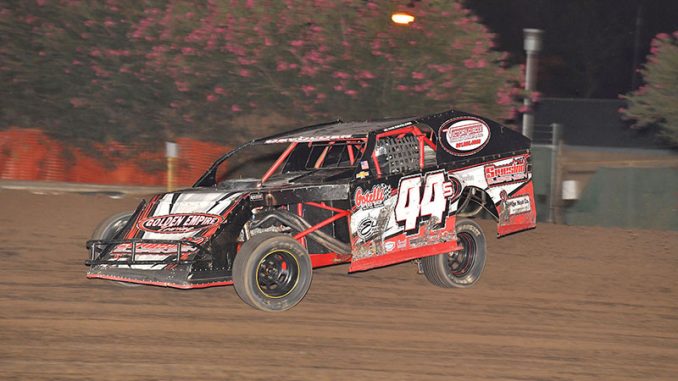 PACIFICA, Calif. – An early season trip to Arizona built the foundation for Shane DeVolder's Larry Shaw Race Cars Western Region Rookie of the Year campaign.
The Pacifica, Calif., hotshoe, a graduate of the Karl Chevrolet Northern SportMod division, logged eight IMCA Modified February starts in the Grand Canyon State. The seat time proved invaluable as he took that experience home and earned All-Star Modified Tour and California State honors as well as the regional rookie prize.
"We started off the year at the Arizona Modified Tour. Racing with all those cars definitely helped a lot," he said. "The Modified is a whole new class for us and our goal at the start of the season was to improve every time we went out. We spent a lot of time and effort working on our pro­gram."
His career first win came over the Memorial Day Weekend. DeVolder earned $1,200 and a spot on the Fast Shafts All-Star Invitational ballot when he took the Santa Maria Raceway Nationals checkers.
"Our first win was amazing," said DeVolder, a junior at Design Tech High School in Redwood City. "I didn't know if we'd be able to win a feature let alone one of the biggest shows in the region this year. It was pretty cool that we were able to be competitive."
He won for the second time, at American Valley Speedway, the week before he celebrated his 17th birthday.
In all, DeVolder raced at a dozen different tracks in the region, including eight in California. He was consistent everywhere he raced, wrapping up the All Star Modified Tour title on the final week­end of the season.
"We thought we had a shot at the state championship because we planned to travel around a lot," De­Volder said. "The tour (championship) was really the big one for us because we raced with so many good drivers."
Wins-2                    Top Five Finishes-25         Starts-45
HIS CREW: Father Dean, Ally Thornton, Dylan Thornton and Paul Hanely.
HIS SPONSORS: Circle Victory Chassis & Parts, Sivesind Suspension, Golden Empire Towing and Elite Signs, all of Bakersfield.