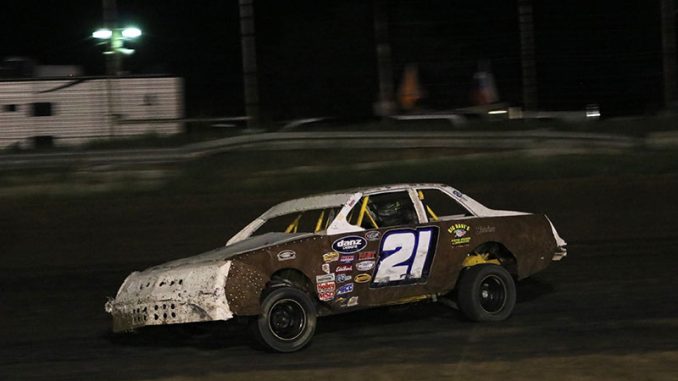 COMBINE, Texas – A casual conversation got Bryce Pritchett into an IMCA Sunoco Stock Car this season.
Consistent finishes throughout 2018 made the Combine, Texas driver the rookie of the year in IMCA's EQ Cylinder Heads Southern Region.
"This is a fast class and one that I've been around all my life," said Pritchett, whose uncle Duain was IMCA's national rookie of the year in 2000 and national champion in 2003. "Modifieds and SportMods race but they don't get to bump and rub so much. I like all of that."
Now a senior at the University of Texas at Arlington majoring in construction management, Pritch­ett started racing at the age of 12 in a junior mini stock class and moved to street stocks at 16.
He took some time off from racing when he started college and got back on the track in a factory stock before making the move to the sanctioned class.
"My grandpa Arty owns the car. He and Duain had been talking about me driving it and everything went from there," said Pritchett, who made the transition to different tires, shocks and setups. "We were shooting for national rookie and even though we fell short we won the regional rookie and Boyd track championship, were second in Texas state points and fifth at 281 Speedway, so it wasn't a bad year."
A challenging start to the season gave way to three second-place finishes and 18 top five's in all. Pritchett's 48 starts took him to seven different venues in Texas.
"We blew a couple motors during the Lone Star Tour in February. The way the season started, I was thinking if I didn't have bad luck I wouldn't have any luck at all," he said. "But we stuck with it and things came around in time. We had a streak of top five's in April, so we had some stretches where we did all right."
Wins-0                    Top Five Finishes-18         Starts-48
HIS CREW: Grandfather Arty Pritchett, Victor York, C.A. Wilder and Rusty Irby.
HIS SPONSORS: Stan Hopkins Company, CA's Auto Sales and Knight Creepers Recovery, all of Dal­las; Brad's Transmissions of Whitehouse; Arty & Sons Paint & Body and Hobby Horse Embroi­dery, both of Combine; Redmon Towing of Haslet; and 1st Class Auto Glass of Canton.