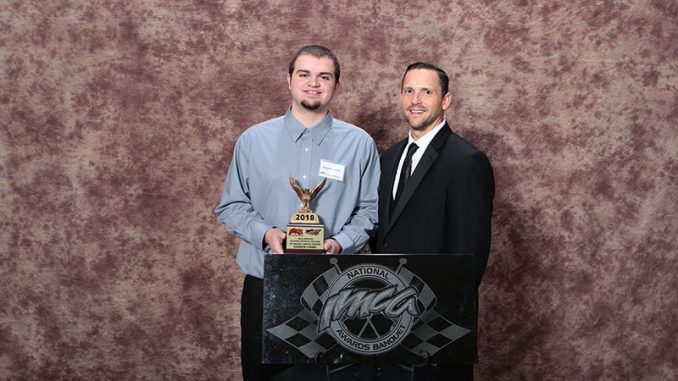 ST. JOSEPH, Mo. – Shadren Turner couldn't have scripted a better start to his IMCA Modified career.
He couldn't have written a better ending for his first season in the open wheeled division, either.
Turner, from St. Joseph Mo., earned Jet Racing Central Region rookie of the year honors in 2018, along with Bethany Speedway and Missouri State championship honors.
"With the new sanctions at Bethany and US 36 Raceway (where he was runner-up in the point standings), we decided to venture in and see what a Modified was like," Turner explained. "We had some good results for sure and learned a lot."
Turner had four wins in all, including victories in his first start on April 20 at U.S. 36 and his 31st and final start on Aug. 25 at Bethany.
"We went into the first night hoping not to do terrible and won, then came out the next Saturday and won again," he said. "It was pretty amazing. We were just trying to learn some things and fired off real good."
Turner had started racing a go-kart at the age of five and got into a 'B' modified at 13. He was 19 at the start of the 2018 season and ran a 2008 Hughes Chassis he was already comfortable with.
"A 'B' Mod and a Modified are a lot alike. They drive similarly," Turner said, "but being off on the setup in the Modified is much worse than being off on the 'B' mod."
He especially prizes the regional rookie achievement because it came racing against first-year drivers from six states.
"I wanted to win a handful of races, learn as much as I could, have some fun and venture out to some new tracks this season," said Turner. "We got to go to Eagle Raceway, Thunder Hill Speedway and Stuart Speedway and we had a lot of fun there."
Wins-4                    Top Five Finishes-17         Starts-31
HIS CREW: Parents Mark and Rachel, Kevin Caw and Brett Lang.
HIS SPONSORS: 54th Street Grill and Bar, Kansas City; Milliken's Lawn and Landscaping, Boller Motorsports, Single Source and St. Jo Auto Fabric, all of St. Joseph; and Falling Star Ranch, Stewartsville.