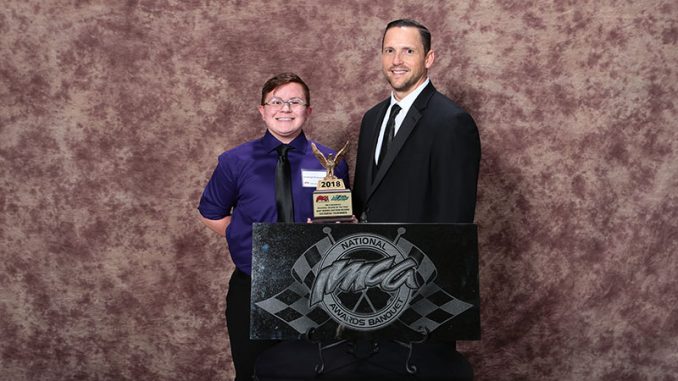 IMLAY CITY, Mich. – A fourth generation driver looking to make a name for herself in the racing world earned rookie of the year honors this season in IMCA's Dirt Works Eastern Region for Modi­fieds.
Sixteen-year-old Victorya Truemner of Imlay City was a weekly regular at both Tri-City Motor Speed­way and Silver Bullet Speedway and had four outings at a third Michigan speed plant, Crys­tal Motor Speedway, as well.
The Imlay City High School junior posted five top five finishes in 30 starts before wrapping up the season with a 10th place showing at Crystal's Great Lakes Nationals.
"This is something I would like to do for a living. I like the division and I like the sportsmanship of everyone I raced with,' said Truemner, citing late-season help from her competition in getting a motor replaced so she could get back on track.
"I was very satisfied with the way I ended the season. My goal was to make Great Lakes Nation­als my first year racing it and I definitely reached that," she continued. "Taking the green flag was wild. It was definitely one of the best things I've done in my racing career."
That career began in go-karts. Truemner moved up to a local street stock class and won numer­ous features, as well as the 2016 track title at Silver Bullet.
"I'm already looking forward to next year," said Truemner, who will wheel a newer Dirt Works ride in her sophomore season.
Truemner became the second female driver to win IMCA Modified regional rookie of the year hon­ors while Mitchell Hunt was also 16 when he topped rookie points in the Eastern Region in 2015.
Wins-0                    Top Five Finishes-5              Starts-30
HER CREW: Father Gary, stepmother Kathy, mother Susan and grandfather Dana Truemner.
HER SPONSORS: Truebuilt of Imlay City; CU Tech of Cass City; Woodyzzz Motel of Caro; Fricke Asphalt of Grand Rapids; Skalnek Ford of Lake Orion; and A & A Manufacturing of Spring Lake.