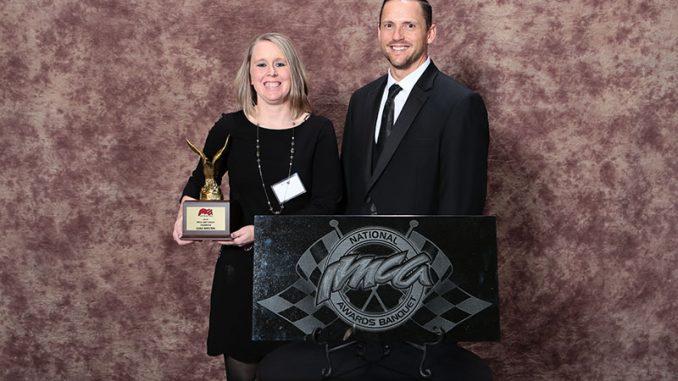 INDEPENDENCE, Iowa – Leah Wroten shifted into high gear after switching shifts at work.
The IMCA Sunoco Hobby Stock driver from Independence, Iowa, won nine times during an ambi­tious 54-start campaign, capping the season with her career first Lady Eagle award.
Wroten had the top point total among the 225 female drivers to compete in IMCA in 2018.
"It's definitely an honor to do this. It was a huge accomplish­ment and not something I could have done without a lot of good help," said Wroten, whose fifth place finish in national standings was also the best-ever by a female driver in the division. "We were very consistent. We didn't have a lot of bad nights and when we did, we were still able to persevere and get top five's."
She became the first female driver to win a track title at Independence Motor Speedway as well as the Iowa State Hobby Stock crown, and is the second female driver to win a track champion­ship in any division at Benton County Speedway.
All the hardware from those accomplishments, as well as the June national points leader plaque, is now on display at her husband Nick's Dominator Chassis shop.
"I'm proud that a small-town chassis won the Lady Eagle," said Wroten, nicknamed 'Mrs. Domina­tor.' "We did a lot of traveling this year. We did everything we could to win it."
Four of her feature victories came at Vinton, three at Maquoketa Speedway and two at Indee. Wroten complemented those checkers with another 38 top finishes.
She battled the best as a Friday night regular at Marshalltown Speedway, racing with eventual national champion Shannon Anderson and ending third in the point standings.
Wroten started her on-track career with a single Karl Chevrolet Northern SportMod outing in 2010. She didn't race again until after getting a Hobby Stock as a wedding gift from her husband in 2012.
A two-time qualifier for the main event at the IMCA Speedway Motors Super Nationals fueled by Casey's, she became the first female driver to qualify for the Stephenville Starter Race of Champions at Boone in 2015.
A nurse at the mental health institute in Independence, Wroten changed out of her scrubs and into her driver's suit on several occasions after going straight from work to the track.
"I had worked second shift for 12 years. This was the first year I could race full-time with my work schedule," she said. "It ended up being a pretty good season."
Wroten's sponsors during her Lady Eagle season included:
Performance Bodies of Cedar Falls; Dominator Chassis, Northeast Iowa Fur Exchange and Bot­toms Up Bar & Grill, all of Rowley; Sprague Rentals, Pat's Tap, Eschen/Tarpy NAPA, Autumn Terhune and SeneGence, and grandfather Felix Butters, all of Independence; Murty Farms of Chelsea; Dage Farms of Brandon; Mark and Linda Schmit of Evansdale; Soukup Flooring and Vanous Auto Transport, both of Quasqueton; Fuzzy's Frame Straightening of Manchester; Han­sen's Fun Bus of LaPorte City; Little Racer Car Club of Vinton and Marshalltown; Tina Suckow and LuLaRoe of Hawkeye; Marla Warnke and Origami Owl Jewelry of Sumner; Jen Meether and Younique Makeup of Waterloo; Hankin's Trucking of Corwith; Jordan Hanisch Photography of Williams; and Precision Ink Graphics and Designs of Brooklyn.