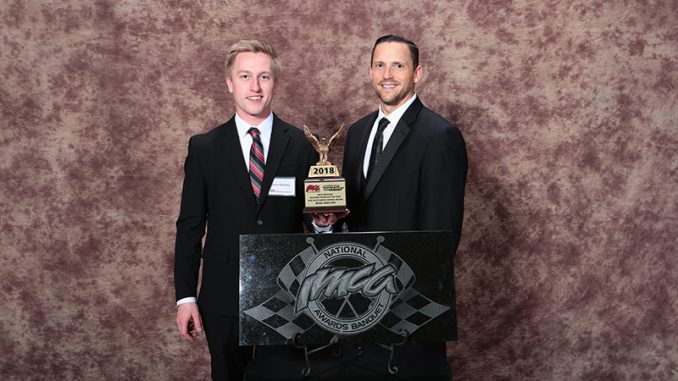 FARGO, N.D. – Three successful seasons in a Karl Chevrolet Northern SportMod were more than enough to convince Jesse Skalicky it was time to move up to the IMCA Modified division.
The Fargo, N.D., driver was rewarded for that decision with rookie of the year honors in the Side Biter Chassis North Central Region.
"I knew it would be possible. I knew we could be there but the big thing for us was learning to make different adjustments to the car," said Skalicky. "I like to push myself and knew I had the best crew and the best sponsors behind me."
Driving the Fury Chassis ride owned by Randall's Excavating of Glyndon, Minn., Skalicky won three of 50 starts at nine different tracks. He was fourth in final standings at home track Red River Val­ley Speedway and Buffalo River Race Park – where he won his first Modified feature on June 3 – and fifth at Norman County Raceway.
He won again at BRRP in late July and then topped Sheyenne Speedway's battle at the Bone­yard on the final night of the IMCA Speedway Motors Weekly Racing point season.
"My uncle Nick raced a street stock at Red River Valley and I grew up there watching him Race," Skalicky said. "I was consistent and hope to get a win there in 2019."
Skalicky raced "all kinds of stuff" since starting his on-track career at the age of 10 in a go-kart, racking up wins in two-person road hog and pure stock classes before earning the INEX Legend Car semi-pro dirt national crown in 2013.
He collected 25 feature victories and four track championships during his Northern SportMod stint.
Never one to shy away from top-flight competition, he made his first four Modified starts at Be­atrice Speedway's Spring Nationals and Eagle Raceway's Ice Breaker Challenge.
"Those were huge learning opportunities. I could have used the excuse that I was a rookie to not go to those races, but we learned so much there," Skalicky said. "If you push yourself and force your­self to learn, you're ahead of the game. I don't think we'd have gotten those three wins later in the year if we hadn't gone to those specials early in the season."
Wins-3                    Top Five Finishes-15         Starts-50
HIS CREW: Parents Warren and Karen, grandfather Jerry Skalicky, Eli Olson, Patrick Lee, Flip­per Schank and Tailin Tommerdahl
HIS SPONSORS: Randall's Excavating of Glyndon, Minn.; Skalicky's Auto Repair, Earthwork Services, Jeff's Plumbing, Magnum Contracting, BG Products, Matco Tools, Rusco Window, Golf Addiction, Grant's Mechanical, M & J Auto Parts, Coors Light, Flash Back Auto Trim, Master Transmission, Revline Performace, RM Auto Sales, Dave's Classics and Rolland Sayler Apartment Rentals, all of Fargo; River's Edge Construction of Argusville; Matejcek Farms of Brocket; BHE Shocks of Ames, Iowa; Wehrs Machine and Racing Products of Bangor, Wis.; Performance Engineering and Manufacturing of Saint Clair, Mo.; Fury Chassis of Stuart, Neb.; KS Engineering of Albert Lea, Minn.; and Braseth Cabinets of Ulen, Minn.