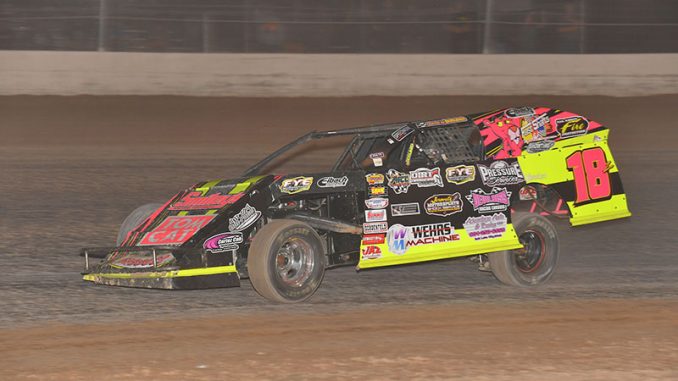 FARMINGTON, N.M. – Late starter Zane DeVilbiss finished fast this season.
The result was a career-best 25 IMCA feature wins and a career seventh Larry Shaw Race Cars Western Region championship.
"We had an outstanding season. We were really consistent and didn't have a lot of DNFs," said DeVilbiss, from Farmington, N.M., ultimately fourth in the national point standings.  "We had started racing late and didn't plan to chase points. I was finishing building cars for customers and didn't touch my own until two days before opening weekend."
DeVilbiss swept those mid-April shows at Desert Thunder Raceway. He'd travel to another 10 tracks in seven states over the course of the season.
He was track champion at Desert Thunder Raceway and Sweetwater Speedway, and state cham­pion in Wyoming.
"I've won national championships before (in 2010 and 2014) and regional championships, but never a state championship so that was pretty cool," DeVilbiss said. "It was kind of a crazy year but it was a good one. We raced at some new tracks and the two track championships were just a bo­nus."
Seven of his feature wins came at Desert Thunder, six at Sweetwater and four at Montezuma County Fairgrounds Speedway in Colorado. DeVilbiss won his last six starts, with weekend sweeps at Diamond Mountain Speedway, Millard County Raceway and Desert Thunder.
"Rock Springs always had a good car count and it was cool to get to race against that many cars. The points were close there all season," he said. "We had really focused on building cars so we didn't race a lot the last couple years. We'd won six regional championships in a row and to come back and get another one was really great."
DeVilbiss now has 164 wins for his IMCA Modified career and is tied for 10th on the all-time list for the division.
Wins-25                  Top Five Finishes-35         Starts-40
HIS CREW: Father Nick, Darcy Fouts, daughter Zoie.
HIS SPONSORS: DeVilbiss Motorsports and Quality Tire, both of Farmington; MVT Trucking of Las Cruces; Speedway Motors of Lincoln, Neb.; Fast Shafts of Des Moines, Iowa; Jerovetz Motor­sports Shock Service of Suamico, Wis.; Wehrs Machine and Racing Products of Bangor, Wis.; Bassett Wheel of Burlington, Wis.; Allstar Performance of Watervliet, Mich.; Out-Pace Rac­ing Products of Freeport, Ill.; AFCO of Boonville, Ind.; Eibach Springs of Corona, Calif.; Competi­tion Carburetor of Reno, Nev.; Dirt Defender of Red Oak, Texas; Showtime Signs of Abilene, Texas; Smiley's Racing Products of Mesquite, Texas; Performance Engineering & Manufacturing of St. Clair, Mo.; KSE Racing Products of Whitehouse, Tenn.; Robert and Sons Aluminum of Newnan, Ga.; Tom Cat Performance of Mooresville, N.C.; Advantage Towing of Salt Lake City, Utah; Durango Cab of Durango, Colo.; All About Fire Protection of Santa Rosa, Calif.; Speedwerx Headers of Forest Lake, Minn.; and FYE Motorsports of St. Cloud, Minn.