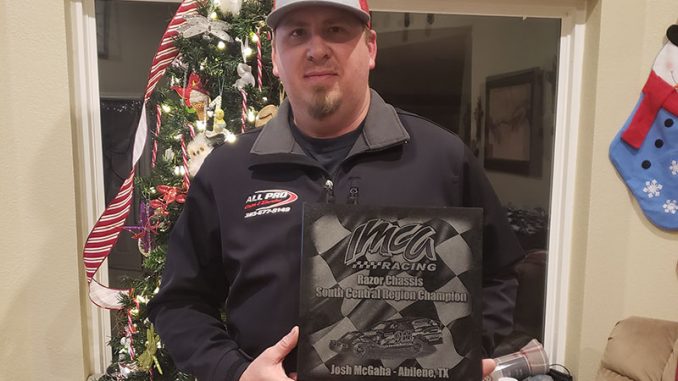 ABILENE Texas – Josh McGaha stayed close to home and stayed consistent throughout the 2018 race season.
As a result, he'll be looking for the best place to show off the Razor Chassis South Central Region championship hardware.
The veteran of 18 IMCA Modified seasons won seven features and counted nine second-place showings in just 36 starts, winning the track championship at his hometown Abilene Speedway for the fifth time along with his career first regional crown.
"It just kind of happened," McGaha said of the regional quest. "My kids (Gavin, 13, and Jaxon, 8) were playing baseball so I hung around town more than I have the past couple years. That opened the door for me to race for the region."
"It's an awesome feeling to have won it," he continued. "I've been close before but it never unfolded the way we needed it to. This is definitely a milestone in my career."
The Modified is the only division of race car McGaha has competed in. He began racing against the likes of Henry Witt Jr. shortly after turning 16 and owns 82 career feature wins after ending 11th in this year's national points race.
McGaha won five of 19 starts at Abilene and traveled to six other venues in Texas and one in Oklahoma over the course of the season.
He was fifth in the inaugural Red River Modified Tour, leading all 25 laps in topping the $1,000 to win Fast Shafts All-Star Invitational ballot qualifying event at 281 Speedway.
"We'd won the Friday before at Heart O' Texas Speedway when they had more than 40 cars and there were more than 70 cars at Stephenville," McGaha said. "Wins on nights like those, and at Abilene when my family was there and joined me in victory lane were special."
McGaha's statistics show 28 top five finishes in 36 starts. His closest competition for the regional championship came from national rookie of the year and 11-time feature winner Jeffrey Abbey.
"We were real consistent. We ended up with quite a few races at Abilene and we had a ton of second place finishes, which paid off for us at the end," he said. "This is such a wide region – it's humongous down here. People have taken note that we're the regional champion and we're proud of it. It shows how much the work we've done over the years has paid off."
Wins-7                    Top Five Finishes-28         Starts-36
HIS CREW: Wife Mandi and Cody Upfold.
HIS SPONSORS: A City Speed, Fletcher's Custom Engines and All Pro Clutch & Driveline, all of Abilene; Dirt Defender of Red Oak; Stephenville Starter and Electric of Stephenville; Dave Leech Construction of San Angelo; and Rowdy C Racing Specialties of Sweetwater.