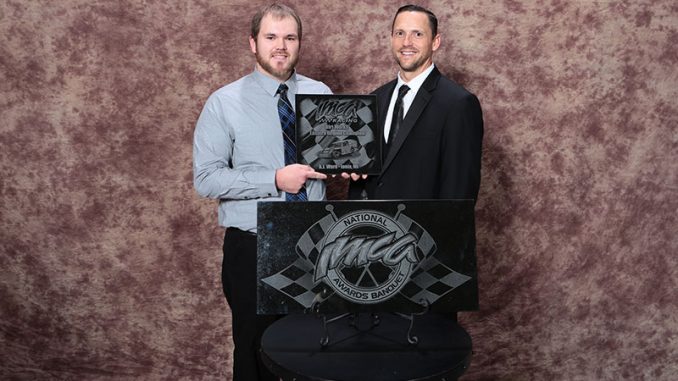 IONIA, Mich. – A.J. Ward brought a "win everything" mindset into the 2018 IMCA Speedway Mo­tors Weekly Racing point season.
He almost did.
Ward became the first driver from Michigan to win three Dirt Works Eastern Region champion­ships with his third consecutive title. His 22 IMCA Modified feature victories included his career 100th in the division and came during an Aug. 26 doubleheader sweep at I-96 Speedway.
The Ionia ace was track champion at I-96 and at Crystal Motor Speedway, won the Great Lakes Nationals for the first time and clinched a fourth Michigan State prize on the way to finishing se­cond in the national points race.
"Getting our 100th win this season was the ultimate goal. Doing that in just our ninth season was an accomplishment in itself," Ward said. "We had a lot of highlights this year but the ultimate was the Jimmy Bennett Memorial win at I-96 in August. He was the father of one of my crew guys and I know he wanted me to win it big for him. Everybody was there and the stands were packed. It was my most emotional win."
After starting the season with a win at New York's Outlaw Speedway, Ward racked up 15 victo­ries at Lake Odessa, five at Crystal and another at Tri-City Motor Speedway.
He finished outside the top five just four times and broke twice while leading late in races.
"Maintenance is very big. We rolled the car out of the trailer after we got home Friday night and got ready for Saturday," he said. "We spent a lot of hours in the shop after a lot of hours at work. My dad spent a lot of time underneath the car cleaning, greasing and checking for cracks."
Ward raced his way into Wednesday, Thursday and Friday qualifying features, then the last-chance event on Saturday during the IMCA Speedway Motors Super Nationals fueled by Ca­sey's. He'd run 10th in the Fast Shafts All-Star Invitational.
He returned home to Michigan and won his final IMCA start of the season, and $3,000, at Crys­tal's Great Lakes Nationals.
"That was a race we've been trying to win for a long time. All in all, this was a year I can't hang my head low on. We raced against a lot of drivers with newer equipment and I'm proud of being able to finish second nationally," Ward said. "We set our goals high to win regional champion­ships and that was a destination we worked hard to get to. The next big step is the national title."
Wins-22                   Top Five Finishes-37             Starts-41
HIS CREW: Ryan Bennett, Tony Williams, father Frank, son Kraton, Brooke Brasington, Spencer Flint, Jeff Dygert, Kyle Shat­tuck, Brandon Linderman, Justin Taylor and Jordan King.
HIS SPONSORS: Four Seasons Mobile Pressure Washing, Level 5 Construction, Darin Elliott with Green Ridge Realty, CL Trucking & Excavating, Smokey Mountain Tobacco, Ionia Race Car Swap Meet, the Ben­nett family, Tommy Fochmocher, Ruerink Roofing & Siding and Animal House Dog Grooming, all of Ionia; XLT Engineering of Kaw­kawlin; Abbott Hayes Pool Construction of Bath; TWI Installation and S and M Video, both of Stanton; Seaver Motorsports of Sheridan; Wellman & Son Machine Shop and White's RV Rental, both of Fenwick; Brinn Inc. of Bay City; BMS of Great Bend, Kan.; Friesen Chevrolet of Sutton, Neb.; Wehrs Machine and Racing Products of Ban­gor, Wis.; Bob Harris Enterprises of Ames, Iowa; Big Deal Car Care of Adel, Iowa; Quickcar Racing Products of Lebanon, Tenn.; and Close Racing Supply of Eldred, Pa.