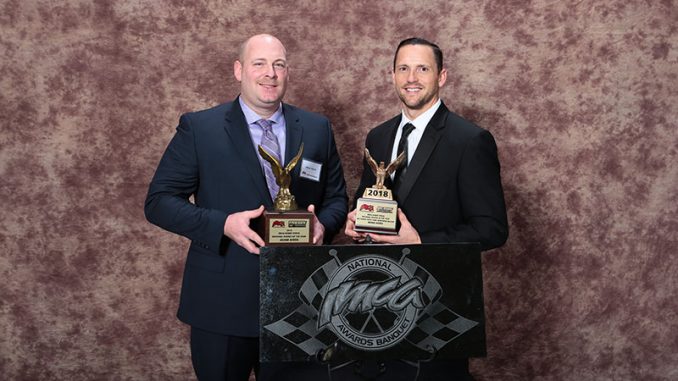 ADAIR, Iowa – Adam Ayers didn't have a lot of on-track experience to boast of before the 2018 race season.
Now he's got IMCA Sunoco Hobby Stock national and Big Daddy Race Cars Northern Region rookie of the year awards to show off.
Ayers traveled to eight different tracks during an ambitious 47-start season as a rookie, winning three times – all at Stuart – and posting 22 top five finishes.
"I ran a couple times in the cruisers years ago, then helped crew for five-time track champion Marcus Fagan and ran his Hobby Stock or Stock Car in mechanics' races," he said. I'd always wanted to race myself so I got a car last year, got it ready to go and penciled out where I wanted to run. Winning rookie of the year was definitely a goal."
He shared a shop and did some traveling with fellow rookie Nick Foster and Stock Car driver/brother-in-law Alex Kading. Ayers also got advice from 2017 Modified national rookie of the year Clint Luellen and multi-time national champion Shannon Anderson in how to go about his points pursuit.
Ayers won features at Stuart on May 25, June 1 and Aug. 3. He ended up third in the point standings there.
"I got the rear end knocked off my first night at Stuart, which is my home track, then went out and won the next two weeks there," he said. "I was probably more excited about the second one because it was the second in a row."
He had plenty to get excited about at the IMCA Speedway Motors Super Nationals fueled by Casey's, qualifying for the main event by finishing fifth in his opening night qualifying feature.
"That was pretty big. Sometimes you get lucky but I felt I was running with some legitimate guys in my feature. I started 14th and passed cars into a qualifying spot before anyone blew a tire," Ayers said. "Qualifying for Super Nationals on opening night was definitely a highlight."
Wins-3  Top Five Finishes-22   Starts-47
HIS CREW: Nick Foster, sister and brother-in-law Katie and Alex Kading, Ben McMenamin and Mike Culver.
HIS SPONSORS: Big Load Trailer Sales and Codi Ayers, Pampered Chef Consultant, both of Casey; T and T Siding of Stuart; Steve and Jake Meyer Insurance of Van Meter; Chuck Wagon Restaurant and Upper Edge Ag, both of Adair; and Ben McMenamin Water Fowl of Dexter.