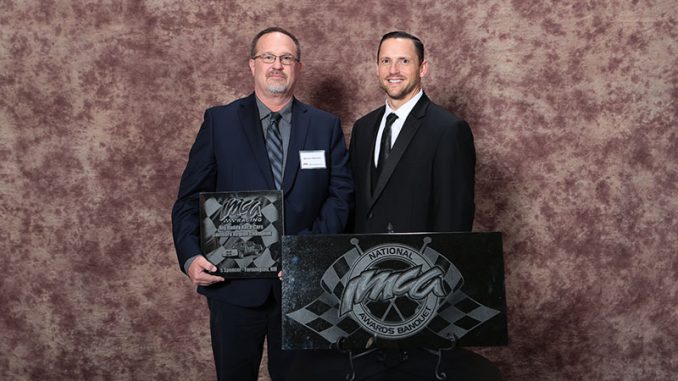 FARMINGTON, N.M. – Dennis Spencer became the first New Mexico driver to win the Big Daddy Race Cars Southern Region championship.
With new IMCA Sunoco Hobby Stock sanctions springing up in New Mexico, Colorado and Utah, he doesn't expect to be the last.
From Farmington, the veteran driver and long-time IMCA backer won 18 of 28 starts this season. He topped nine of 10 shows at Aztec Speedway and seven of 10 at Montezuma County Fairgrounds Speedway in earning a pair of track titles as well.
"I like the challenge of this class. You're limited in equipment and the cars are heavy. You have to learn how to drive 'em," said Spencer, also the winner of single features at Desert Thunder Raceway and Millard County Raceway in Utah. "If your setup isn't working, you have to change the way you enter the corner or try a different line. It's not always that someone else in outrunning you. Sometimes you're defeating yourself."
After growing up at the track and helping crew for his future father-in-law, Spencer started his own racing career in 1987. Now 52 years old, he's been in and out of the sport since then, in every division from the Modified to the Hobby Stock.
Spencer helped host a meeting with Director of Competition Bill Zwanziger and competed in the first-ever IMCA Modified feature held at Aztec in the early 1990s. More than a quarter century later, he was part of the group of drivers that advocated for new sanctions in the Southern Hobby Stock region.
"A lot of us have been pro-IMCA. We like the standard set of rules and that we can go to any sanctioned track and race," Spencer said. "I started the season at Canyon Speedway Park (in Arizona) and was competitive, and got to race this year at Millard County and Desert Thunder, two tracks I'd never been to before."
The top driver in the Border States Challenge for drivers at Aztec and Cortez, Spencer recorded 24 top five finishes and only two DNFs in his first Hobby Stock season.
He'll stay busy building Grumpy Built Chassis for other drivers over the winter and race a Hobby Stock or IMCA Sunoco Stock Car in 2019.
"The regional championship wasn't something we were racing for. We were just racing to have fun, then somebody said something about points and we started paying more attention to those," he said. "I started racing in a stock class and feel it would be appropriate to end my career in it. My bucket list thing is to run a bunch of tracks I've never been to."
Wins-18                  Top Five Finishes-24         Starts-28
HIS CREW: Son-in-law Tyler Finch.
HIS SPONSORS: Grumpy Built Chassis, CBH Trucking and Salvage, San Juan Realty and Larry Rust and MATCO Tools, all of Farmington.