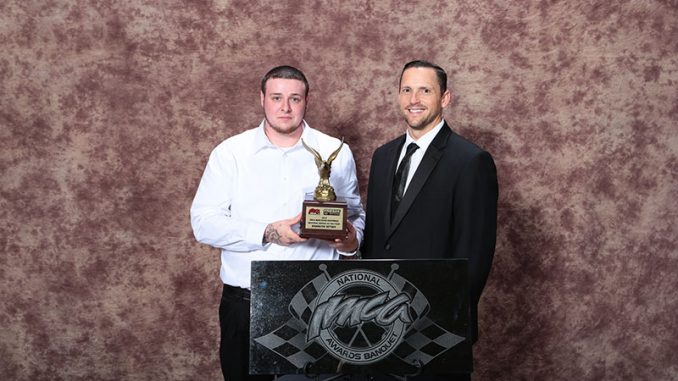 DAVENPORT, Iowa – Minutes after learning how to drive, Brandon Setser went out and won his first heat race.
He hasn't slowed down since.
Setser earned national Karl Chevrolet Northern SportMod rookie of the year honors, along with the track championship at his hometown Davenport Speedway.
"We had set out to chase IMCA points. The rookie of the year and track championship were goals for the year," said Setser, who turned 22 the week after the IMCA Speedway Motors Weekly Rac­ing point season ended. "We started the season at LaSalle Speedway (the March 30-31 Thaw Brawl) and right away I knew this was the division for me. It's the most competitive class I've ever been in."
He'd started racing at the age of 14 in the 4-cylinder class at Davenport, getting that first heat win after a quick lesson from his uncle Gage on driving stick.
Setser ran in that class for four years before a single season with more success in an outlaw street stock class. Forty-nine feature wins and 166 heat victories preceded his move to the North­ern SportMods.
"I achieved everything I wanted to this year. The next step would be to race for the national champion­ship," Setser said. "This division is right for me cost-wise but the car requires more mainte­nance than any division I've been in. Sometimes that feels like a second full-time job."
His 44 starts this season came at eight different tracks. While consistency netted Setser the champion­ship at Davenport, his two feature wins came on June 10 and July 1 at Quad City Speed­way, where he ended third in points.
"There is no feeling like getting your first feature win," he said. "It was breathtaking, actually."
Wins-2                    Top Five Finishes-23           Starts-44
HIS CREW: Father Ricky and mother Regan, fiancé Chyna Cole, Michael Ross, Randy Carmichael, Ethan Berry, Dan Hahn, Ken Terri, and Keith Haislip.
HIS SPONSORS: Kamp and Cones and Excel Shocks Transmissions, both of Davenport; Stratic Graphics of Independence; and 613 Motorsports of Hooppole, Ill.