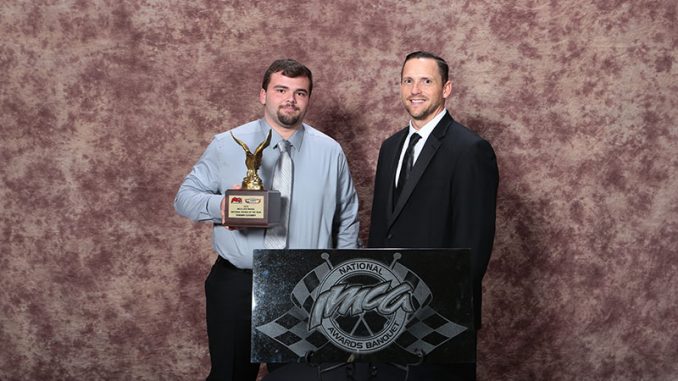 DES MOINES, Iowa – Shawn Cooney admits that it took about a week for it to sink in that he'd really won his first IMCA Late Model feature.
Now he's enjoying the satisfaction of earning national rookie of the year honors for the second time.
Cooney, 20 years old and from Des Moines, Iowa, led all first-year drivers in the Late Model divi­sion with 669 points, good for 12th place in the 2018 national standings. His first win came on Aug. 10 at Marshalltown Speedway.
"I didn't believe I'd done it for about a week," said Cooney, son of two-time national champion Todd Cooney. "I had told my dad I wanted to beat him in a race we both finished, and I was able to beat him, Darrel DeFrance and other amazing Late Model drivers."
"It was a pretty out-of-this-world feeling," he continued. "I grew up watching a lot of these guys and to be able to race with them and win was incredible."
IMCA's 2013 national Sport Compact rookie of the year – and now the fifth driver to earn IMCA's top rookie award in different divisions – Cooney raced a Karl Chevrolet Northern SportMod before tak­ing the big step to a Late Model.
"I always thought I'd race a Late Model but to be 100 percent honest, I never thought I'd get the national rookie of the year award, or get my first feature win in my rookie year," he said. "Late Mod­els were a whole new ballgame. There is so much respect in this division and all the Late Model guys are so good at what they do. They flew by me at the start of the season."
Cooney made 22 starts at Marshalltown or Benton County Speedway and was 14th in his first Deery Brothers Summer Series outing on Memorial Day at Boone Speedway.
"I could always ask my dad when I had questions but he told me to do what I thought was right. said Cooney. "He's taught me as much as he could but we have different driving styles. He's al­ways encouraged me to figure out things for myself."
Wins-1                    Top Five Finishes-3           Starts-23
HIS CREW: Dave Saffel, Mike Doland, Curtis Glover and Jake Murray.
HIS SPONSORS: Terry May, Dynamic Drivelines and Alan's Seamless Gutters, all of Des Moines; and KS Engineering of Albert Lea, Minn.