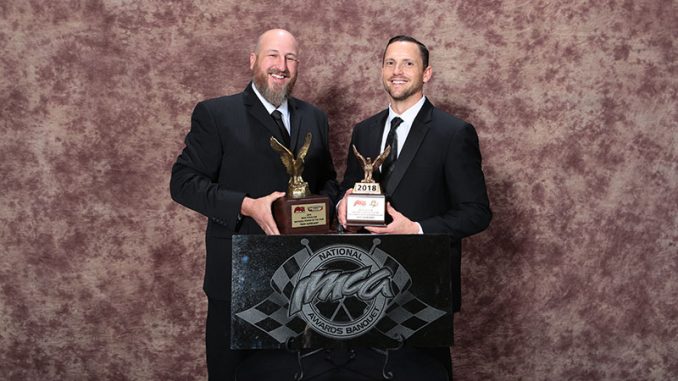 HAYS, Kan. – Twenty years or so ago, Troy Burkhart raced and had a lot of fun in a local cruiser class.
Last year he followed son Tathan's first IMCA Sunoco Hobby Stock campaign.
This season Burkhart got back behind the wheel and raced to IMCA Sunoco Stock Car national and EQ Cylinder Heads Northern Region Rookie of the Year honors, as well as the Kansas State championship.
"The thing about the Stock Cars is that they're always competitive. The cars are equal and at the end of the night there are hardly any cautions and 10 cars are battling for the win," said Burkhart, from Hays. "I like the open motor and I like the body style."
Burkhart caught the travel bug while on the road with Tathan last season. He recorded 54 starts at a dozen tracks in four states, with five wins and 22 top five finishes.
He ended third in points at Salina, where he got his first win on April 27. Tathan was the Hobby Stock champion there and also earned a Kansas State crown as the pair completed a unique dou­ble.
"I didn't go into the season with the intention of running for rookie of the year. I had high expecta­tions but there are a lot of good drivers around here and it's tough to get a good finish," Burkhart said. "We had a blast doing this as a family and it definitely brought us together. We'd load up the cars on Friday and didn't get home until Sunday."
"We lived it and breathed it. It was awesome," he added. "I'm excited to travel even more next year. We had a blast this year."
Wins-5                    Top Five Finishes-22             Starts-54 
HIS CREW: Sons Taron and Tathan and wife Tiffany.
HIS SPONSORS: Xibit Customs, El Dos Mexican Restaurant and Jump Start Fitness, all of Hays; Kip­pis Insurance of Victoria; Walt's Machine of Colyer; Sterling Supply of Stockton; Money Land & Cattle and Multi-Fire, both of Penokee; Perry Misner and Chubby Chassis, Albert; Mike Peter­silie and 1st Class Chassis of Hoisington; Mike Goldfuss of Dwight; Outlaw BBQ of Wright; and Dynamic Drivelines of Des Moines, Iowa.