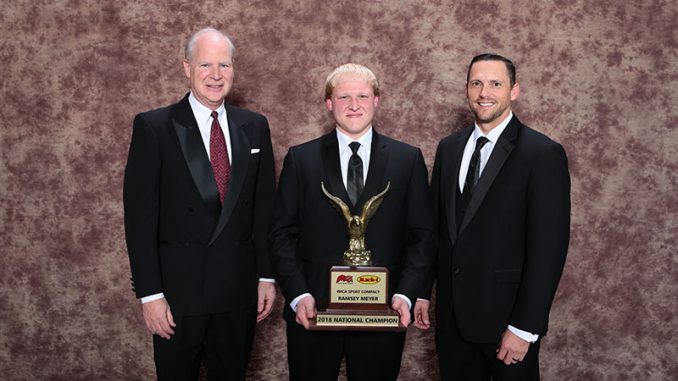 PIERCE, Neb. – The good stuff was the right stuff this season for Ramsey Meyer.
Meyer raced to 31 feature wins and track titles at Raceway Park and Off Road Speedway to earn his career second IMCA Mach-1 Sport Compact national championship.
"We found some good stuff. We worked hard and just kept going," the Pierce, Neb., driver said. "I race against some of the best competition in the country so we just kept plugging away like we hadn't won anything yet."
He won 11 of 12 starts at Raceway Park and 11 of 13 outings at Off Road Speedway, along with champion­ships at both.
Meyer started the season with the opening night checkers at Beatrice Speedway's Spring Nationals and won four times at Boone County Raceway and twice at Junction Motor Speedway, with single victories at Eagle Raceway and Park Jefferson Speedway as well.
"Spring Nationals was a race neither my brother Cameron or I had won before, so it was special. We definitely knew that night this might be a special year," he said. "There were some nights when I would have thought somebody was crazy if they said we could be national champions. Good luck can have a lot to do with it but we tried to make our own luck with preparation and hard work."
Meyer racked up 36 top five finishes in his 41 starts this season. Streaks of 10 and 11 straight wins from April 27 to July 15 were separated by a sixth place finish.
"Beatrice was one of the wins that were special," he said. "We had a night at Raceway Park when we got caught up with another car, restarted 17th and came back and won. It's hard to do that when you race against the guys we do."
His 31 wins were Meyer's single-season best and put him at 168 for his career. He's averaged nearly 28 wins a year since 2013.
"It's hard to compare this year with the national championship I won in 2013. They both had their ups and downs," Meyer said. "What made this year so challenging was all the rainouts. You had to make the races you got in count."
"We ran some of the bigger races. We won a lot of them and we had the car to win some of the others," he added. "I felt we could have raced anywhere in the nation and had a chance of winning."
Wins-31                    Top Five Finishes-36           Starts-41
HIS CREW: Parents Tom and Karen. Grandparents Dale and Gail Clipston, brother Cameron and sister-in-law Bridget, the Vollbrecht fam­ily and Justin Morton.
HIS SPONSORS: Tom's Service and MAC Tools, both of Pierce; Renner Auto Body of Norfolk; and Jet Racing of Beatrice.