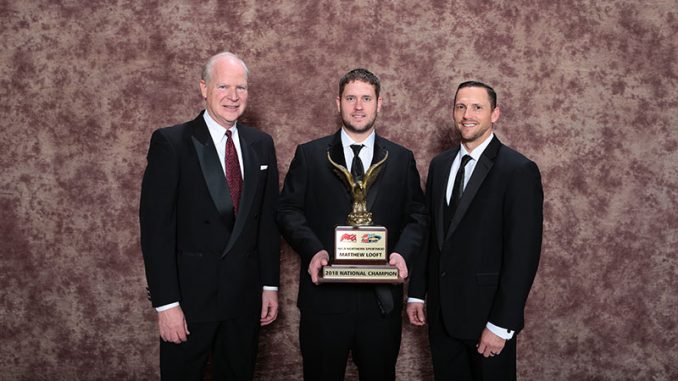 SWEA CITY, Iowa – Challenges on and off the track couldn't deny Matthew Looft in his quest for a career third Karl Chevrolet Northern SportMod national championship.
Looft collected 26 feature wins, plus track titles at Arlington Raceway and Kossuth County Speedway. His success came following the May 30 birth of son Brysen, who was later diagnosed with Hirschsprung's Disease, which is a result of missing nerve cells in the muscles of the baby's colon.
Following an extensive surgery and 17 days in the neonatal intensive care, Brysen went home to Swea City, Iowa, and the Looft Team turned its attention back to racing.
"This (national) championship was harder to win than the ones in 2013 and 2014 because there was just so much happening and racing was not our top priority," Looft said. "Brysen has a long road ahead of him but we are grateful for the thoughts and prayers as well as the nomination into the Shayla Bee Fund family."
The Shayla Bee Fund was established to help responsible, working class families with a child in medical crisis; the organization presented a generous donation to the Loofts during intermission at Fairmont Raceway on Aug. 3.
"We have the best family, friends, and community," said Looft, who got back to being his best despite the demands at and away from the track.
He won 13 times at Arlington, five times at Algona, three times each at Fairmont and Clay County Fair Speedway, and twice at Murray County Speedway.
"We fought some engine problems and had some terrible luck drawing this year. I was leading the June 15 feature at Fairmont Raceway and spun all on my own, the first time I had done anything like that in eight years. My head just wasn't in the game," Looft said. "After that race I spent the entire night in the shop getting better. I was determined to push forward and try harder than ever before. The next night we went from 20th to win at Arlington and then won 21 out of our next 34 races."
"My wife Brittney and mom Aleta did so much to make this season possible. I couldn't have won the national championship without them. My wife put many miles on running with the kiddos and taking Brysen to his weekly doctor appointments, while juggling a new job, yet never missed a race," he added. "My mom took our oldest son Brayden to the grandstands nearly every night and helped keep us awake on the way home. I work two jobs, I'm on the fire department and I'm an EMT.  We all worked our tails off."
Looft's 23 track championships are first, his 134 wins second on the all-time lists for Northern SportMods. He's the first driver to win three career national titles in the division.
Wins-26                   Top Five Finishes-45             Starts-53
HIS CREW: Wife Brittney, sons Brayden and Brysen, Roger Schroeder and Kurt Anderson
HIS SPONSORS: Looft's on 9, Youniquely You by Brittney Looft, Cornerstone Insurance Services, Craig Deim Seeds, MB Auto Clinic, Anderson Family Farm, Looft Tankwagon Service and Liquor Here Liquor There, all of Swea City; Lofstrom-Krantz Farms, Lofstrom Seeds and Smith Farms, all of Lakota; Ellsworth Brothers Manure Pumping LLC of Ledyard; Greg Penning & Co. LLC of Bancroft; Mitchell Machine of Webster City; Big D's Trucking of Estherville; Racers Against Cancer of Armstrong; Dynamic Drivelines of Des Moines; S&S Machine and B&B Racing Chassis, both of Belle Plaine, Minn.; Sathoff Racing Engines of Jackson, Minn.; Snap Graphics of Mapleton, Minn.; Esser Distributing of Blue Earth, Minn.; Moonlite Race Parts of Good Thunder, Minn.; Grant and Robin, Randy and Sheila, and the Keech family; Jerovetz Motorsports Shock Service of Suamico, Wis.; Wehrs Machine and Racing Products of Bangor, Wis.; JDR Performance of Marshfield, Mo.; AFCO of Boonville, Ind.; and EngineQuest of Las Vegas, Nev.