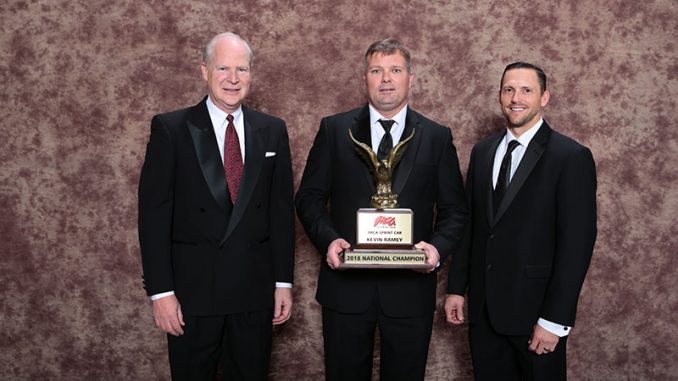 FORT WORTH, Texas – A learning season in 2017 paid national championship dividends for Kevin Ramey in 2018.
Ramey won a division-best 16 features en route to his first IMCA RaceSaver Sprint Car national crown.
"We could not have asked for a better season. We were blessed," said Ramey, from Fort Worth and track champion at Devil's Bowl Speedway and RPM Speedway and Texas State champion as well. "It was just a phenomenal year."
He won eight times at Devil's Bowl and seven times at RPM, plus a checkered flag run in the June 29 Sprint Series of Oklahoma at Red Dirt Raceway.
"We lost a lot of races to rain, but we were consistent when we did race and when we looked at them, we saw we were up there in national points," Ramey said. "There are a lot of good drivers at both our weekly tracks but this was one of those seasons where no matter what happened, it worked in my favor."
Ramey had 31 starts on the season. He finished outside the top five just once, breaking late while running fourth in a July show at Mesquite.
"We got shock help from (defending national champion) Marcus Thomas and picked up our motor program." Ramey explained. "Obviously our cars are good and we work on them every week. I do the same thing over and over and it works for me. We didn't change setup more than a couple times all season."
Ramey's son Dylan was in charge of regular service maintenance. He spends considerable time in the shop and also races a factory stock.
"I've raced a Sprint Car since the 1990s and had raced IMCA off and on before this year," Ramey said. "Last year I had back surgery but raced more later in the season. We tried some different things and made it a learning season. Some things worked, some didn't."
Enough of those things worked that Ramey won six of 13 IMCA starts, then finished third in the main event and won the Jake Ita Memorial at the RaceSaver Nationals.
He became the first driver with both national and RaceSaver Nationals titles on his IMCA resume by winning the sixth annual event at Eagle Raceway this September.
"The RaceSaver Nationals are like the Chili Bowl to me. I don't know why I'd ever miss it," Ramey said. "The best of the best were at Eagle and it was a privilege racing with them."
While most of the hardware Ramey has taken home over the course of his career is displayed in the shop, the RaceSaver Nationals trophies and championship belt have their own special place in the house.
"If I was going to guess," he said, "the national championship trophy will go somewhere in the house, too, probably in Dylan's room."
Wins                                   Top Five Finishes                       Starts
16                                       30                                             31
HIS CREW: Son Dylan, Jaime Geer and Brent Bullard.
HIS SPONSORS: Jambo BBQ Pits of Fort Worth; Smiley's Racing Products of Mesquite; Dirt Defender of Red Oak; Graham's Wrecker Service of Dallas; Lightning Wings of Tulsa, Okla.; Precise Racing Products of Bennington, Neb.; Keizer Wheels of Orange City, Iowa; and Hoosier Tire.