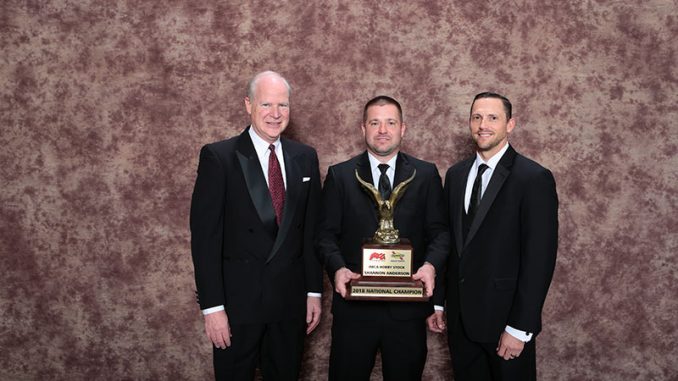 NEW VIRGINIA, Iowa – His latest national championship campaign had even Shannon Anderson shaking his head a bit in disbelief.
Anderson won 33 of his 39 starts in extending his career record to eight national IMCA Sunoco Hobby Stock crowns, then captured a division record fifth IMCA Speedway Motors Super Nation­als fueled by Casey's crown in his final outing of the year.
"We lost a lot of races to rain, especially early in the season, but when we got to race it seemed like everything worked right for us," said Anderson, now of New Virginia, Iowa. "I only had one flat tire all season and there were nights when the caution came out when I needed it to and put me on the leader's back bumper."
Along with the Big Daddy Race Cars Northern Region title, Anderson earned track championships at Marshalltown Speedway, Sports Park Raceway and Buena Vista Raceway.
After opening the season with checkered flag runs at Lee County Speedway and Benton County Speedway, he won 10 of 15 starts at Marshalltown, 11 of 12 at Fort Dodge and all 10 at Alta.
"I'm really comfortable in this car (a 2016 Terminator). I've had it three years now. I ran different shocks the first year but went back to Bilstein last year," he said. "I started off this year the way I ended last year, clicking off a lot of wins."
Anderson had streaks of 10 and then five wins in a row before ending the season with 14 consecu­tive victories, the last of them coming in the Saturday night main event at Super Nation­als. Figure that race into the equation and Anderson won 85 percent of his starts in 2018.
"The fifth Super Nationals championship was pretty memorable. I really wanted to get it," Ander­son said. "It was a goal we set for ourselves last winter and we pulled it off."
He's the all-time division leader with 351 feature wins and 28 track championships. His previous national titles came in 2008-2010, 2012, 2014 and 2016-2017, his Super Nationals crowns in 2009, 2012, 2014 and last September.
"Winning doesn't ever get any easier. I want to win every night and I know the drivers I race against want to, too. The competition definitely gets better every year," Anderson said. "We race at tough tracks and a lot of the guys in Central Iowa are fast. It's hard to put together the season like we did this year."
Anderson shares the IMCA modern era record of eight national championships in the same division with Mike Nichols, who won the Stock Car crown again this season.
Wins-33                   Top Five Finishes-37           Starts-39
HIS CREW: Mike Leffler, Donald Maas, Andy Coffman, Rene Senecut, Kyle Schmauss, father Jeff, fiancée Ashley and kids Jeffrey, Ryker and Kensley.
HIS SPONSORS: Parents Jeff and Carol Anderson, grandparents Gary and Judy Anderson and Grandma Ryan, all of Atlantic; Mike Leffler of Ankeny; Ed Sorensen and Donald and Amber Maas, all of Stuart; AERO Race Wheels of Estherville; Friesen Chevrolet of Sutton, Neb.; Eibach Springs of Corona, Calif.; Bilstein Shocks of Poway, Calif.; Finishline Body and Paint of Grimes; Jones Racing Products of Ottsvile, Pa.; AmSOIL; Race Logic Chassis School of Fort Smith, Ark.; Nutz Graphics of Oskaloosa; CIT of Newton; Immel Farms and Upper Edge Ag, both of Adair; Quick Performance of Ames; Pat Fagan and Fast Shafts, Alan's Seamless Gutters and Chuck & Larry's Transmission, all of Des Moines; Terminator Chassis, Kyle Brown and Harris Auto Racing and Bushore Racing Enterprises, all of Boone; VP Heartland Race Fuels, Manhattan, Kan.; Ag Hub Midwest of Menlo; and Sanborn Auto of Sanborn.