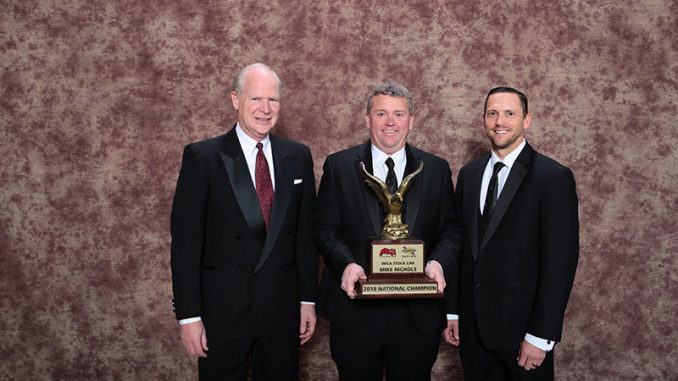 HARLAN, Iowa – The two most important numbers to come from Mike Nichols 2018 season were 500 and eight.
Nichols won his 500th IMCA Sunoco Stock Car feature in extending his record-tying national champion­ship total to eight. He's just the second IMCA driver to reach the 500 win mark and shares the modern era national championship record with Hobby Stock driver Shannon Anderson.
"Our biggest milestone was reaching 500 wins," said the Harlan, Iowa, speedster, who raced to the landmark checkers on Aug. 26 at Dawson County Raceway. "A third straight national champion­ship was very important and it's definitely a who's who of national champions that I'll be standing on stage with at the IMCA banquet, but the 500th win was a goal we wanted to reach this year."
Nichols totaled 42 feature wins, at 11 different tracks in five states while upping his division best total to 503 career checkers.
The EQ Cylinder Heads Northern Region champion won all 13 starts at Dawson County and eight of 10 at Crawford County Speedway. Nichols had a streak of 14 straight wins from April 29 to June 15.
"We only had one DNF all year. Not having DNFs helps you win championships," said Nichols, who ran in the top five in 50 of his 53 outings. "First you have to finish before you can finish first."
Just getting to the track was a challenge at times for Nichols, who balances traveling for work with completing a Master's Degree in Business Administration and the trials of building a new house.
He and wife Anita have lived in a motor home next to his shop on the building site since June. They hope to be moved into the new house in mid-December.
"It's been a crazy, hectic season. I've had to rely on my crew, especially Paul Zimmerman, more this year because of all the stuff we've had going on," Nichols said. "There were a few hiccups but it turned out to be a very successful season."
The all-time IMCA leader with 36 career track championships, Nichols had previously topped na­tional point standings in 2002, 2004, 2007, 2010, 2014, 2016 and 2017.
"It's been a magical ride, especially the last four or five years," he said. "You know runs like this are going to end and it will be sour when it does, but you have to enjoy it while it lasts."
Wins-42                    Top Five Finishes-50           Starts-53
HIS CREW: Wife Anita, Justin Gessert and Paul Zimmerman co-crew chiefs, Tuffy Zimmer­man, Mike Diercks, Stan Nichols, Julie Schneider, Brian Dotzler, Wendall Cross, Chris Gaul, Josh Niel­sen, Lon Lefeber, Mike Onnen and Sterling Sorensen.
HIS SPONSORS: EQ Cylinder Heads of North Las Vegas, Nev.; Performance Bodies of Cedar Falls; Dynamic Drivelines of Des Moines; Bassett Racing Wheel of Burlington, Wis.; Schoenfeld Headers of Van Buren, Ark.; Moser Engineering of Portland, Ind.; Jim Hiland and Bilstein Shocks, Mooresville, N.C.; QuickCar of Lebanon, Tenn., and FAST Ignition and Comp Cams, both of Mem­phis, Tenn.; Eibach Springs of Corona, Calif.; CP Carrillo/Bullet of Irvine, Calif.; Dirt De­fender of Red Oak, Texas; Kevko Oil Pans of Fairmont, Minn.; Mi Casa Family Restaurant, Ad­vanced Communication Services, Dotz's DJ Service, Petersen Motors and the Rust family/Rusty Iron, all of Harlan; Pizza Ranch of Harlan and Denison; McClellan Electric of Denison; Gaul Farms of Earling; Elements 102 of Atlantic; Motorsports Warehouse of Boone; B & B Chassis of Belle Plaine, Minn.; KS Engineering of Albert Lea, Minn.; Interstate Power Systems of Minneap­olis, Minn.; Luke Cochran and SSS Motorsports of Springfield, Neb.; FX Suspension of Phillips, Neb.; Koch Farms of Cambridge, Neb.; One4 Cutz of Omaha, Neb.; VP Heartland Fuels of Manhat­tan, Kan.; Western Carriers of WaKeeney, Kan.; Champion Racing Oil of Clinton, Mo.; SixNine Design of Jamesport, Mo.; and The Joie of Seating, Concord, N.C.