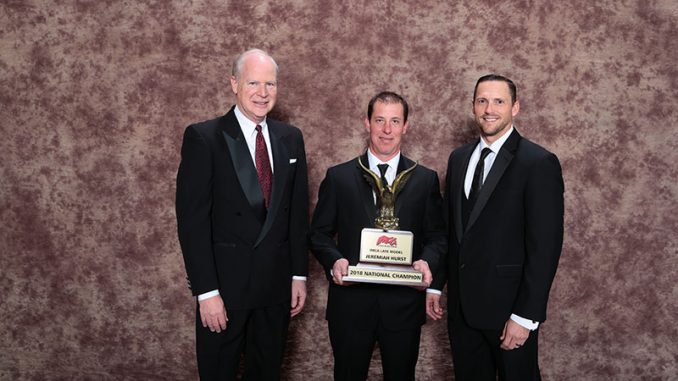 DUBUQUE, Iowa – A driver who was just glad to be back on the track earned his career first IMCA Late Model national championship this year.
Jeremiah Hurst won both starts on the final weekend of the IMCA Speedway Motors Weekly Racing point season, then clinched the national title with a seventh place run in the Deery Brothers Summer Series finale in September.
The conclusion of his 2018 campaign was a far cry from Hurst's 2017 season, which came to an abrupt end after he suffered a heart attack in late July.
"I wanted to go back and race the next night. I couldn't wait to get back and race this year and the doctors said there was no reason not to," the Dubuque, Iowa, driver explained. "I changed my lifestyle dramatically. I changed my diet and quit smoking. This is the best I've felt in years."
A contender for the 2017 national crown, Hurst ended up seventh in the points chase despite missing the final month-plus following his heart attack.
Changes in track sanctions necessitated changes in his own travel plans. Driving for Ken Roberts, Hurst was a model of consistency but didn't find victory lane until June 28 Deery Brothers Summer Series event at Benton County Speedway.
"That was definitely the highlight of the season. It's crazy that I won it because I told the guys to load the car up after hot laps," he said. "By the time the feature came around, the track had changed, I started 11th and was in the lead before midway, and it became my first Deery win in 16 years."
Two more wins followed that weekend, at Marshalltown Speedway and Quad City Speedway.
Hurst continued racing weekly with his closest competitors for the national crown, at Marshalltown with Todd Cooney and at Maquoketa Speedway and Quad City with Matt Ryan. He ended the year with seven wins and 38 top five finishes in 48 starts.
Track championship bonus points – Hurst won at Maquoketa, Cooney at Marshalltown and Ryan at Quad City – ultimately put Hurst in the driver's seat for the national crown.
"We knew we would have to win twice on the final weekend and we did," said Hurst, also the Iowa State champion and third in Deery point standings. "What we've accomplished still hasn't sunk in but I'm sure it will when we get to the national banquet and see everything with my name on it."
"I'd always wanted to race for the national title but never had the funding or the equipment. We had tried to go for it a couple years but it never worked out," he added. "When I had the chance to race for Ken, I knew I had the equipment that would make it possible. I couldn't be more grateful to him for giving me the opportunity."
Wins-7                    Top Five Finishes-38             Starts-48
HIS CREW: Father Rick, brother Ian, car owner Ken Roberts, Jeremy Roeth, Justin Tharp, Mike Torrey and Mike Arlen.
HIS SPONSORS: Roberts Custom Software of East Moline, Ill.; Associated Realty and Preston Telephone Company, both of Preston; Capri College of Dubuque; JM Custom Wraps & Designs of Eldridge; A & E Freight of Lowden; DONE Right TV & Security Solutions and Roehmer Engineering, both of Davenport; Performance Bodies of Cedar Falls; Fast Shafts by Axle Exchange of Des Moines; Shepherd Engine Development of Solon; Dew Drop Inn of Moline, Ill.; Orion Tire & Repair of Orion, Ill.; QuickCar Racing Products of Lebanon, Tenn.; Black Diamond Race Cars of Shreveport, La.; BAM Lifters of Ormond Beach, Fla.; Swift Springs of Chino Hills, Calif.; and the UAW.