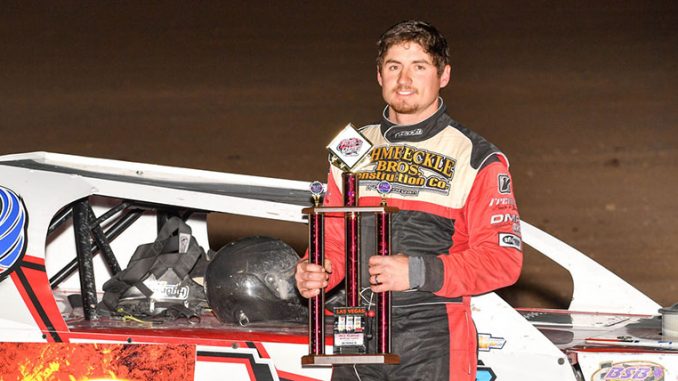 By Mike Spieker
LAS VEGAS, Nev. (Nov. 9) – The 21st annual IMCA Duel in the Desert continued Friday evening at the Dirt Track at Las Vegas Motor Speedway. By night's end, Ricky Thornton Jr. and Jeremy Frenier visited victory lane with qualifying feature wins in the IMCA Modifieds, while Jake Sachau claimed the Karl Chevrolet Northern SportMod qualifying feature.
Zane DeVilbiss applied heavy pressure to Frenier in the closing laps of the first IMCA Modified qualifying feature. Frenier and DeVilbiss distanced themselves by a straightaway over the rest of the field as they both jockeyed for position on the low side of the speedway. DeVilbiss pulled to within a car length of Frenier on the final lap, but could not get any closer as Frenier held on to take the win.
"It seemed like I could hear him on me," said Frenier of the pressure from DeVilbiss behind him. "I didn't want to have to push it any harder than I needed to. Until I felt a bumper, I was going to keep my same pace. The car was really easy to drive tonight."
Frenier, DeVilbiss, Chris Abelson and Dustin Cady all qualified for the big $7,777 to win dance on Sat­urday.
Front row starters Braxton Yeager and Randy Brown led the field, respectively, on the opening lap of IMCA Modified qualifying feature two. Fifth-place starter Thornton slipped underneath Joel Rust on lap two to take over the third spot. From there, Thornton took advantage of the lap two restart to move by Brown for second.
Thornton remained within five car lengths of Yeager throughout the mid- to late-going of the 25-lap event. With three to go, the advantage for Yeager was a mere two car lengths until the yellow was displayed for 2018 national champion Jordan Grabouski, who slowed to a stop in turn four.
Coming to the green, contact was made between Yeager and Thornton exiting turn four, which briefly turned Yeager's machine sideways. That allowed Thornton to shoot into the lead as Brown went after Yeager for second.
That's all Thornton needed to cruise to the win, while Yeager, Brown, Casey Skyberg and Terry Phillips rounded out the top five.
"We took off in the rubber and (Yeager) got out of the rubber and got a little sideways. I was still in the rubber and got into him a little bit," explained Thornton of the lap 22 restart. "I definitely didn't want to get into him… but this one is for Mike Tanner."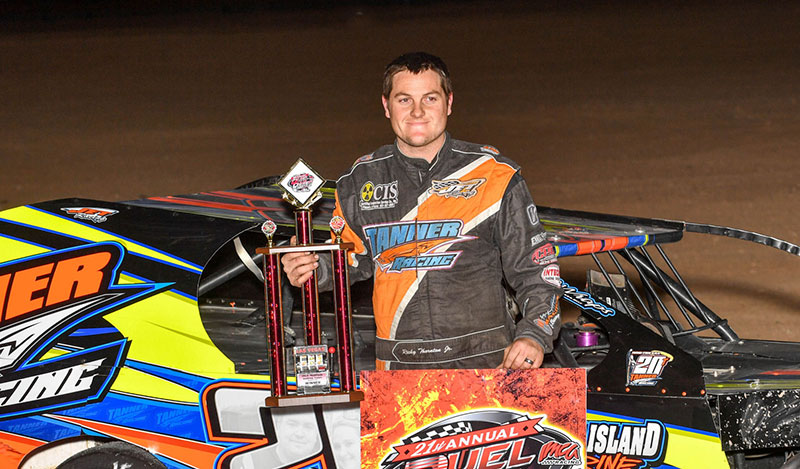 Upon post-race inspection, Skyberg's car was light at the scales which disqualified him from his fourth and final transfer position and handed it over to the four-time and defending Duel in the Desert champion Phillips.
Sachau led all 20 trips around the semi-banked half-mile clay oval to claim the Northern SportMod win. Luke Krogh, had a top-six transfer spot locked up until he spun in turn two at the halfway point. Two other cars were collected by Krogh before seven other cars piled in.
On the ensuing restart, Sachau quickly pulled away from defending race winner Chris McKellar. Sachau stretched out his advantage in the closing laps and cruised to the win. McKellar, Gary Dutton, Chase Rudolf, Michael Johnson and Shawn Harker all punched their tickets into Saturday night's main event.
Results
1st Modified feature – 1. Jeremy Frenier, Fort Morgan, Colo.; 2. Zane Devilbiss, Farmington, N.M.; 3. Chris Abelson, Sioux City, Iowa; 4. Dustin Cady, Albany, Ore.; 5. Kyle Brown, Madrid, Iowa; 6. Andy Obertello, Hollister, Calif.; 7. Jason Beaulieu, Campbell River, B.C.; 8. D.J. Shan­non, Merced, Calif.; 9. Joe Duvall, Claremore, Okla.; 10. Bricen James, Albany, Ore.; 11. Ethan Dotson, Bakersfield, Calif.; 12. Clint Reichenbach, Santa Maria, Calif.; 13. Cody Burke, Salinas, Calif.; 14. Kollin Hibdon, Pahrump; 15. Travis Metz, Blackfoot, Idaho; 16. Dominic Ursetta, Ar­vada, Colo; 17. Cody Laney, Torrance, Calif.; 18. Duane Cleveland, Olivehurst, Calif.; 19. David Murray Jr., Oberlin, Kan.; 20. Cory Sample, Winnemucca; 21. Nicholas O'Neil, Tucson, Ariz.; 22. Bradley Morris, Romoland, Calif.; 23. Ray Bollinger, Kewanee, Ill.; 24. Troy Morris Jr., Bakers­field, Calif; 25. Darrell Hughes II, Manteca, Calif.; 26. Jason Wolla, Ray, N.D.; 27. Josh Most, Red Oak, Iowa; 28. Troy Cordes, Dunkerton, Iowa; 29. Chris Nieman, Quincy, Calif.; 30. Austin Kiefer, Pahrump.
2nd Modified feature – 1. Ricky Thornton Jr., Clive, Iowa; 2. Braxton Yeager, Green River, Wyo.; 3. Randy Brown, Chowchilla, Calif.; 4. Terry Phillips, Springfield, Mo.; 5. Troy Foulger, Oakley, Calif.; 6. Ryan Gaylord, Lakewood, Colo.; 7. Tanner Black, Otis, Kan.; 8. Collen Winebarger, Cor­bett, Ore.; 9. Bob Moore, Sioux City, Iowa; 10. A.J. Sharpensteen, Amarillo, Texas; 11. Grey Fer­rando, Stayton, Ore.; 12. Jerry Flippo, Bakersfield, Calif.; 13. Chaz Baca, Mesa, Ariz.; 14. Chase Hansen, Myton, Utah; 15. Jerry Schram, Vancouver, Wash.; 16. Jeff Larson, Freeport, Ill.; 17. Matthew Drager, Albany, Ore.; 18. Ryan Porter, Atwater, Calif.; 19. Shane DeMey, Denison, Iowa; 20. Jeff Taylor, Cave City, Ark.; 21. Jesse Sobbing, Malvern, Iowa; 22. Jordan Grabouski, Beatrice, Neb.; 23. Paul Stone, Winton, Calif.; 24. Kellen Chadwick, Oakley, Calif.; 25. Matt Chris­topherson, Gillette, Wyo.; 26. Chase Allen, Midlothian, Texas; 27. Joel Rust, Grundy Center, Iowa; 28. Roy Spielman, Mills, Wyo.; 29. Justin O'Brien, West Union, Iowa; 30. Casey Skyberg, Rapid City, S.D.,
Northern SportMod feature – 1. Jake Sachau, Denison, Iowa; 2. Chris McKellar, Bakersfield, Calif.; 3. Gary Dutton, Bakersfield, Calif.; 4. Chase Rudolf, Prole, Iowa; 5. Michael Johnson, Bakers­field, Calif.; 6. Shawn Harker, Nebraska City, Neb.; 7. Braxton Possinger, Medford, Ore.; 8. Austin Frye, Taft, Calif.; 9. Danny Concelman, Colorado Springs, Colo.; 10. Guy Ahlwardt, Anti­och, Calif.; 11. Bo Partain, Casa Grande, Ariz.; 12. Wayne Dotson, Bakersfield, Calif.; 13. Michael Dean, Santa Maria, Calif.; 14. Mitch Boesel, Aurora, Colo.; 15. Austin Manzella, Bakersfield, Ca­lif.; 16. Lance Borgman, Beatrice, Neb.; 17. Nick Spainhoward, Bakersfield, Calif.; 18. Nick Hankins, Bennett, Colo.; 19. Tom Fraser, Antioch, Calif.; 20. Matthew Mayo, Bakersfield, Calif.; 21. Danny Roe, Turlock, Calif.; 22. Les Friend, Galt, Calif.; 23. Keith Brown Jr., Pittsburg, Calif.; 24. Scott Saunders, Colorado Springs, Colo.; 25. Tate Johnson, Mesa, Ariz.; 26. Rick Diaz, Los Banos, Calif.; 27. Rex Higgins, Bloomfield, N.M.; 28. Fred Ryland, Brentwood, Calif.; 29. Luke Krogh, Dickinson, N.D.; 30. Brady Bjella, Williston, N.D.