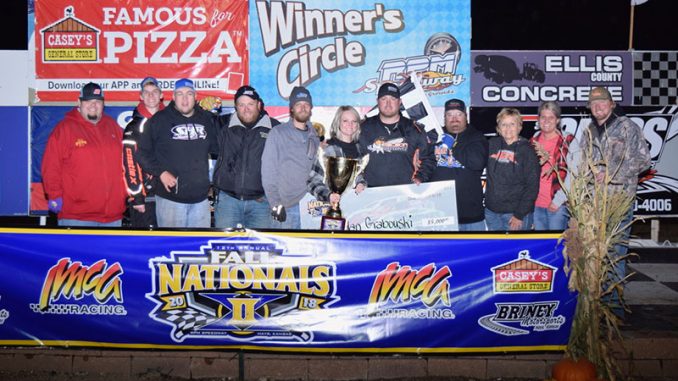 HAYS, Kan. (Oct. 6) – Jordan Grabouski came home from Hays with a bookend Fall Nationals trophy.
Grabouski led all 40 laps of Saturday's IMCA Modified main event at RPM Speedway. The victory was good for $5,000 and hardware to complement the trophy he got at the 2011 event.
"I had a five second lead at one point so we definitely had a good car," said Grabouski, already on the Fast Shafts All-Star Invitational ballot. "It's hard to know how much you're leading by, espe­cially when you're in lapped traffic. There was a restart with six laps to go and I was able to pull away a bit after that."
He's had mixed luck at RPM in the past – a late flat tire took him out of contention at last year's Fall Nationals – but Grabouski won both his heat and qualifying feature on Friday night.
Clay Sellard, Eddie Belec, Steven Bowers Jr. and Tanner Black completed the top five.
More than 200 IMCA race teams competed during the 12th annual event at Hays.
Elijah Zevenbergen continued his special events success with the $3,000 IMCA Sunoco Stock Car victory and Blaine Walt was the $2,000 Karl Chevrolet Northern SportMod winner.
Brady Bencken topped the $1,500 to win feature for IMCA Sunoco Hobby Stocks and hard charger Jakob Schwien's Mach-1 Sport Compact checkers were worth $300.
Coming into the weekend with rich, recent victories at Park Jefferson Speedway's Iron Cup and Arlington Raceway's Schoknecht Shootout, Zevenbergen had to regain the lead twice before beat­ing persistent Kyle Pfeifer across the stripe by a car length.
"You always want to win the big race. Everything is just working out for us really well right now," said Zevenbergen, who ran middle and high lines early, then moved to the lower groove to hold off Pfeifer. Multi-time Fall Nationals winner Mike Nichols motored from 14th starting to third and 2016 race winner Jason Rogers was fourth.
Walt had both the top line and the most momentum at the end of his battle with defending race winner Dustin Daniels.
He was scored first on all 25 laps after starting from the pole, running the lower line in the first set of turns and the higher side in the second. Also a feature winner during the season-opening Sun­flower Classic at RPM, Walt took the checkers ahead of Daniels, Ethan Braaksma and Dakota Sproul.
Bencken started third and fell back to fifth. The four drivers in front of him got bottled up following a restart with 10 laps to go and Bencken drove by for the lead.
Shay Simoneu was side-by-side at the finish but couldn't deny Bencken a career second Fall Nation­als title. He'd also reigned two years ago.
Completing the top four were Angel Munoz and Brendon Stigge.
Schwien won the first Sport Compact heat, then promptly drew the inside row six starting spot. He worked his way through the field using the lower groove and passed 2017 race winner Monte Ho­nas with five laps to go for the lead.
"It feels great to be able to race from 11th (starting) and win," he said.
Honas, Lanny Bolton and Toby Schwien finished second through fourth, respectively.
Feature Results
Modifieds – 1. Jordan Grabouski; 2. Clay Sellard; 3. Eddie Belec; 4. Steven Bowers Jr.; 5. Tan­ner Black; 6. Anthony Roth; 7. Tripp Gaylord; 8. Jordy Nelson; 9. Clay Money; 10. John Hansen; 11. Tyler Frye; 12. Shane Hiatt; 13. Cody Gearhart; 14. Brandon Spanjer; 15. Mike Petersilie; 16. Ryan Heger; 17. Dan Nelson; 18. Justin Bussell; 19. Jeremy Frenier; 20. Daniel Gottschalk; 21. Tyler Sutton; 22. Jeremy Zorn; 23. Dylan Sherfick; 24. Jeff Hunter.
Stock Cars – 1. Elijah Zevenbergen; 2. Kyle Pfeifer; 3. Mike Nichols; 4. Jason Rogers; 5. Jason Schoenberger; 6. B.J. Wagoner; 7. Casey Woken; 8. Marty Clark; 9. Jeff Tubbs; 10. Chris Heim; 11. Troy Burkhart; 12. Tyler Tipton. 13. Bryan Rigsby; 14. Eric Rempel; 15. Dusty Springer; 16. Ron Hartman; 17. Jesse Taylor; 18. Michael Pepper; 19. Mark Zorn; 20. Dusty Blake; 21. Tanner Portenier; 22. Caleb Crenshaw; 23. Landon Maddox; 24. Colin Heim.
Northern SportMods – 1. Blaine Walt; 2. Dustin Daniels; 3.Ethan Braaksma; 4. Dakota Sproul; 5. Joshua Everhart; 6. Jacob Olmstead; 7. Tyler Watts; 8. Josh Appel; 9. Trenton Kleweno; 10. Jaylen Wettengel; 11. Rodger Peck; 12. Brian Murphy; 13. Zach Nitsch; 14.Toby Witthuhn; 15. Eric Munoz; 16. Ben Boland; 17. Drew Hilt; 18. Mike Appel; 19. Jarrett Lunow; 20. Nicholas Carpen­ter; 21. Brett Berry; 22. Sturgis Streeter; 23. Kamren Gruber; 24. Cody Thompson.
Hobby Stocks – 1. Brady Bencken; 2. Shay Simoneau; 3. Angel Munoz; 4. Brendon Stigge; 5. Cody Williams; 6. Dylan Nelson; 7. Garrett Hager; 8. Josh Barnhart; 9. Tyler Barribo; 10. Duane Wahrman; 11. Taylor Husse; 12. Leevi Runge; 13. Brandon Honrud; 14. Trevor Schmidt; 15. Adam Goff; 16. Braxton Berry; 17. Cody Stone; 18. David Plumisto; 19. Austin Davis; 20. Cody Ghumm; 21. Brian Stich; 22. Shawn Weigel; 23. Zach Olmstead; 24. Tathan Burkhart.
Sport Compacts – 1. Jakob Schwien; 2. Monte Honas; 3. Lanny Bolton; 4. Toby Schwien; 5. Jeff Klinkefus; 6. Madison Reed; 7. Billy Turner; 8. Rileigh Flohrs; 9. Robert Clanton; 10. Zachary Card­well; 11. Tim Bouchey; 12. Weston Groth; 13. Bobby Potter; 14. Christian Destefano; 15. Otto Schutte; 16. Ryan Ayers; 17. Robert Maurello; 18. Jacey Archer; 19. Mitch Bolton.