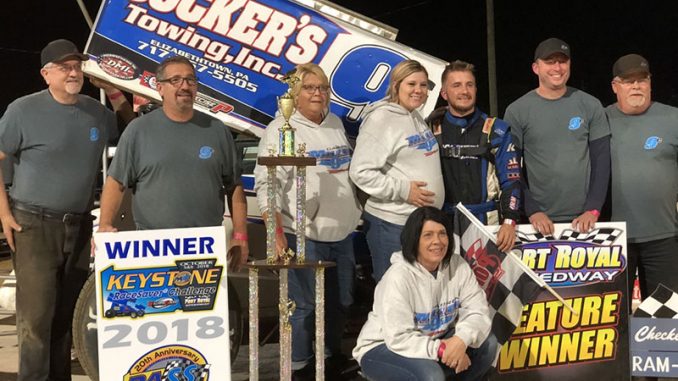 PORT ROYAL, Pa. (Oct. 6) – Darren Miller seemed destined for the runner-up spot Saturday at Port Royal Speedway but a strange incident set him up for the biggest win of his IMCA Rac­eSaver Sprint Car career.
Kyle Smith was all set for a weekend sweep as he drew the pole position for the Pennsylvania Sprint Series Keystone RaceSaver Challenge event and led every lap.
Except the last one.
On the final circuit, as Smith drove into the last turn, an incident blocked the track ahead of him. Smith entered the turn on the high side with traffic below and had no time or opening to make it through.
Miller was just far enough behind that he was able to make a last second maneuver to avoid con­tact and went on to grab the one lap dash for the win. Miller earned $1,200 for the victory, which included $400 in bonuses based on years with RaceSaver and races run in 2018.
Former winner Jeff Miller Jr. came home second followed by Zach Newlin, Austin Bishop and Jona­than Jones. Fifty-two cars were entered.
Justin Clark traveled from Ohio and picked up a seventh place finish earning the longest traveler bonus for the top 10 and the top 20 netting him an additional $300; 52 cars were on hand for the event.
Smith had picked up the win Friday as 42 cars battled at Williams Grove Speedway to earn the guaranteed starter spot the next night at Port Royal. Drew Ritchey, Tyler Denochick, Miller and Scott Ellerman rounded out the top five. Miller's finish earned him the Beer Hill Cup Summer Series Champion­ship after Zach Newlin lost an engine early in the night.
Feature Results
Friday – 1. Kyle Smith; 2. Drew Ritchey; 3. Tyler Denochick; 4. Darren Miller; 5. Scott Ellerman; 6. Jaremy Hanson; 7. Dave Grube; 8. Ken Duke Jr.; 9. John Scarborough; 10. Jeff Geiges; 11. Jay Krout; 12. Ryan Stillwaggon; 13. Tyler Reinhardt; 14. Erin Statler; 15. Ryan Lynn; 16. Ian Detwei­ler; 17. Scott Frack; 18. Devin Adams, 19. Daren Bolac; 20. John Walp; 21. Brad Mellott; 22. Eric Husick, 23. Greg Dobrosky, 24. Jonathan Jones.
Saturday – 1. Darren Miller; 2. Jeff Miller Jr.; 3. Zach Newlin; 4. Austin Bishop; 5. Jones; 6. Stillwag­gon; 7. Justin Clark; 8. Ellerman; 9. Duke; 10. Lynn; 11. Roger Irvine; 12. Jake Waters; 13. Kyle Ganoe; 14. Jon Haegele; 15. Geiges; 16. Jacob Gomola; 17. Samantha Lieberman; 18. Frack; 19. Fred Arnold; 20. Rick Stief; 21. Ritchey; 22. Smith; 23. Nick Sweigart; 24. Mellott.