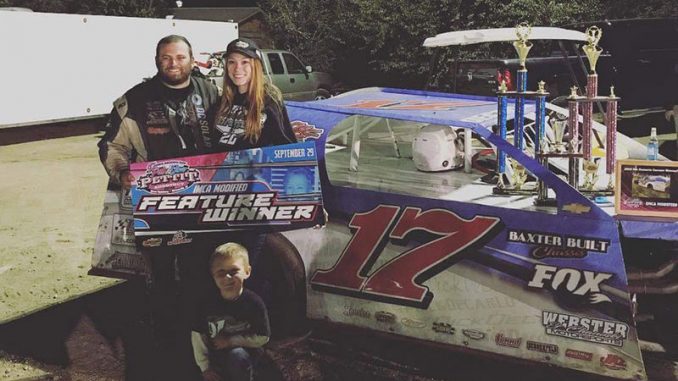 WATSONVILLE, Calif. (Sept. 29) – What Nick DeCarlo called "an awesome weekend" ended with his name on the Fast Shafts All-Star Invitational ballot and more than $4,000 in the bank.
DeCarlo held off Troy Foulger for the $3,003 IMCA Modified Pettit Shootout victory Saturday at Ocean Speedway. He'd started outside the front row and led all 36 laps.
Hogge, winner of the Friday feature at Watsonville, Shane DeVolder and 21st starting Ryan McDan­iel completed the top five.
Three cautions came out early but a long green flag run preceded the checkers.
"Friday I ran the bottom and led most of the way before Hogge passed me on the top," DeCarlo said. "Saturday we ran the high side, then ran the last eight laps wherever to pass lapped cars."
In addition to the lion's share of the Saturday purse, DeCarlo took home $700 for his second place showing on Friday, $500 for having the top point total for the two days and the $100 fan favorite award.
"This was my highest paying weekend ever and it came against very good competition," noted DeCarlo. "Now I've got money for the Duel In The Desert."
Already on the Fast Shafts ballot, Hogge pocketed $1,000 for the opening night win at Wat­sonville, his Pettit career seventh since 2013.
Kevin Johnson, Guy Ahlwardt and K.C. Keller ran 1-2-3 in the Friday feature for Karl Chevrolet Northern SportMods.
Brent Curran was the Saturday winner, ahead of the 18th starting Johnson, 12th starting Brian Cooper, 19th starting Andrew Peckham and 16th starting Keller.
Fifty-nine IMCA Modifieds and more than 40 Karl Chevrolet Northern SportMods saw action over the course of the Pettit Shootout Weekend.
Friday Feature Results
Modifieds – 1. Bobby Hogge IV; 2. Nick DeCarlo; 3. Troy Foulger; 4. Jim Pettit II; 5. Darrell Hughes II; 6. Brian Cass; 7. Cody Burke; 8. Albert Gill; 9. Anthony Copeland; 10. Todd Hermo­sillo; 11. Alex Wilson; 12. Tim Yaeger; 13. Robert Montalvo; 14. Kellen Chadwick; 15. D.J. Shan­non; 16. Anthony Slaney; 17. Jarod Fast; 18. Shane DeVolder; 19. Jeff Streeter; 20. Robert Marsh; 21. Andy Obertello; 22. Tim Balding.
Northern SportMods – 1. Kevin Johnson; 2. Guy Ahlwardt; 3. K.C. Keller; 4. Andrew Peckham; 5. Fred Ryland; 6. Cody Parker; 7. Aaron Crowell; 8. Anthony Giuliani; 9. Nick Tucker; 10. Brent Curran; 11. Cale Kanke; 12. Justin McPherson; 13. Chase Thomas; 14. Igor Gandzuk; 15. Mike Medel; 16. Adriane Frost; 17. Trevor Clymens; 18. Patti Ryland; 19. Kenny Shrader; 20. Todd Gomez; 21. Jim DiGiovanni; 22. Danny Roe; 23. Brian Cooper.
Saturday Feature Results
Modifieds – 1. DeCarlo; 2. Foulger; 3. Hogge; 4. DeVolder; 5. Ryan McDaniel; 6. Pettit; 7. Clint Reichenbach; 8. Chadwick; 9. Obertello; 10. Hughes; 11. Danny Wagner; 12. Marsh; 13. Gill; 14. Chris Sieweke; 15. Yaeger; 16. Cass; 17. Jeff Decker; 18. Chris Crompe; 19. Brian Pearce; 20. Slaney; 21. Ryan Porter; 22. Wilson.
Northern SportMods – 1. Curran; 2. Johnson; 3. Cooper; 4. Peckham; 5. Keller; 6. Crowell; 7. DiGiovanni; 8. Chris Falkenberg; 9. Les Friend; 10. Fred Ryland; 11. Shrader; 12. Kanke; 13. Keith Brown Jr.; 14. Giuliani; 15. Tanner Thomas; 16. Tom Fraser; 17. Patti Ryland; 18. Tucker; 19. Gomez; 20. Parker; 21. Medel; 22. Roe.