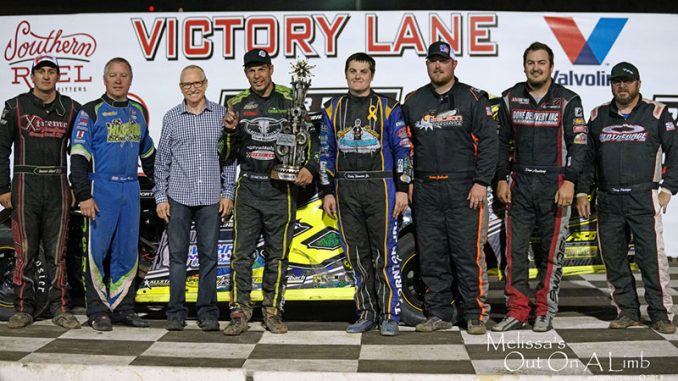 By Mike Spieker
BATESVILLE, Ark. (Sept. 29) – IMCA Modified entries topped the 130 mark and traveled from more than 20 states and Canada for Mark Martin's second annual Race For Hope 74 at Batesville Mo­tor Speedway
Troutman, N.C.s Kyle Strickler, already on the Fast Shafts All-Star Invitational ballot, led the dis­tance en route to Saturday's $20,000 payday. Defending race winner Ricky Thornton Jr. and Jor­dan Grabouski completed the top three.
A purse of more than $150,000 was paid to the 28 main event qualifiers
Qualifying feature winners Thornton, Strickler and Grabouski, made up the front row for the three-wide start. Thornton placed his bid for the lead on an early restart but Strickler had the momen­tum down the back straightaway to hold the point.
Behind the leaders, Grabouski and Chase Allen swapped the third spot on lap four, with Grabouski holding onto the position.
The bottom became the preferred groove for the entire field as the race approached the lap 40 fuel stop. Thornton slipped from second to fourth following the lap 35 restart as both Grabouski and Jason Hughes got by. At the fuel stop, Strickler was followed by Grabouski, Thornton, Hughes, and Cayden Carter.
The top three remained unchanged as the race resumed following the fuel stop. A five-car pile up on turn one brought out the yellow again with 30 laps remaining. Robert Baker, Jason Wolli, Allen, Ricky Engels Jr. and Donnie Barnhart were all involved.
On the restart, Thornton regained the runner-up position.
A series of cautions in the closing laps kept the front cars free of lapped traffic. On each restart, Thornton was strong and looked to take the point away from Strickler, but Strickler held his line on the low side of the speedway and fended off each challenge.
Grabouski, Terry Phillips, and Tanner Black rounded out the top five.
Wendall Wallace was the hard charger of the race, advancing from 26th to 11th.
Tripp Gaylord won the $1,000 Race of States. John Hansen also picked up $1,000 for his Manufactur­ers' Race victory. Jesse Dennis grabbed the final qualifying position in the main event by way of his last-chance qualifier win while Donnie Barnhart was the lucky draw for the final start­ing spot.
Mission of the Mark and Arlene Martin Hope for Arkansas Foundation is to improve the quality of life for children and families across the state with an emphasis on Batesville and Independence County.
This year, the foundation provides financial assistance to the Community Enrichment Organiza­tion as it works to provide shelter and rehabilitation to the homeless in the area.
Feature results – 1. Kyle Strickler; 2. Ricky Thornton Jr.; 3. Jordan Grabouski; 4. Terry Phillips; 5. Tanner Black; 6. Drew Armstrong; 7. Jason Hughes; 8. Peyton Taylor; 9. David Strummed; 10. Jeff Taylor; 11. Wendall Wallace; 12. Jason Wolla; 13. Tim Ward; 14. Timmy Culp; 15. Jesse Sob­bing; 16. Kelly Shryock; 17. Jake O'Neil; 18. Ken Schrader; 19. Joel Rust; 20. Chase Allen; 21. Ricky Engle's Jr.; 22. Donnie Barnhart; 23. Robert Baker; 24. Cayden Carter; 25. Justin Kay; 26. Zack Vander Beek; 27. Jesse Dennis; 28. Tom Berry