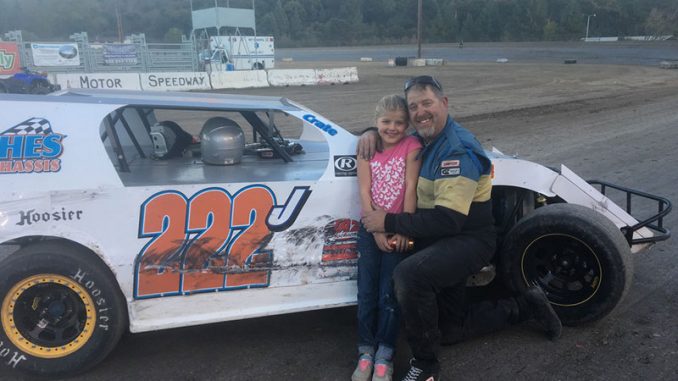 VINTON, Iowa – Another 22 IMCA Modified drivers have raced their way onto the ballot for the 2019 Fast Shafts All-Star Invitational.
IMCA Speedway Motors Super Nationals fueled by Casey's champion Jeff Aikey is part of that elite group of new candidates. All-Star Invitational winner Hunter Marriott was already vote eligible as was Harris Auto Racing Race of Champions winner Jason Wolla, who'd won two East-West Clash features at Gillette before making the tow to Boone.
Casey Arneson topped Jamestown Speedway's Stampede and Kyle Olberding ruled Septemberfest at Beatrice Speedway.
Guy Norton and Ryan Roath split Shootout features at Canyon Speedway Park while Trevor Miller was a double winner at Central Arizona's Hank Arnold Memorial.
Darrell Hughes took the big check at Merced Speedway's Ed Parker Memorial, Alex Stanford scored top honors at Bakersfield Speedway's Mike Moshier Classic and Anthony Roth paced Dawson County's Connie Jewett Memorial.
Robby Sawyer motored to a pair of All Star Modified Tour checkers. Joel Rust prevailed at the Showdown in MoTown and Michael Hale was a Fall Roundup winner at Sweetwater Speedway. Eddie Kirchoff was fastest in the East-West Clash finale.
Winners of weekly features that paid $1,000 or more were Cory Sample, James Slawson, Clint Reichenbach and Scott Hogan.
Bob Moore was an Iron Cup winner at Park Jefferson, Justin Kay repeated at Davenport Speedway's Governor's Cup, Jon DeBenedetti won Siskiyou Motor Speedway's Rod Restad Memorial and Jesse Dennis paced Stuart Speedway's Ron Little Memorial.
Drivers already on the ballot winning qualifying events were Jordan Grabouski, Zane DeVilbiss, Richie Gustin, Billy Kendall, Bobby Hogge IV and Brandon Beckendorf.
The 2019 ballot also includes Ryan Ruter, Cayden Carter, Ryan McDaniel, Jaden Fryer, Chris Abelson, Tyler Peterson, D.J. Shannon, Johnny Scott, Ricky Thornton Jr., Eddie Belec, Scott Foreman, Brad Calhoun, Josh Gilman, Marcus Yarie, Myron DeYoung, Toby Patchen and Kyle Strickler.