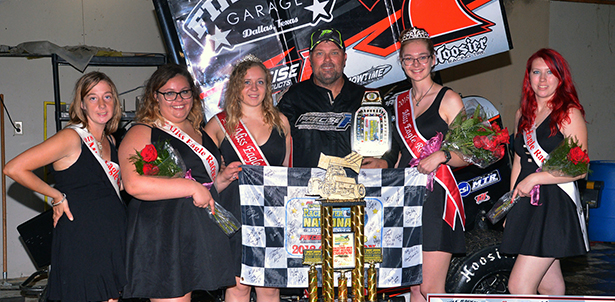 By Greg Soukup
EAGLE, Neb. (Sept. 2) – A little precipitation didn't dampen Kevin Ramey's night.
The Fort Worth, Texas, flyer reigned as champion of the sixth annual RaceSaver Nationals Sunday at Eagle Raceway, earning $2,500 plus a bonus based on his number of sanctioned starts this season.
The checkers came after a late restart and ahead of defending race winner Jason Martin.
Ramey, the IMCA RaceSaver Sprint Car national points leader, had topped Friday's opening night qualifier and started from the pole. Jake Bubak raced from his mid-pack start to third and Ethan Barrow was fourth. Luke Cranston followed as the top five was represented by drivers from as many different states.
A light rain began to fall as cars were pushed out for the main event and continued throughout. Martin took the lead from his inside row one spot as Ramey fell to second and Casey Burkham's settled into third with Barrow fourth.
Barrow moved up to third on lap six with Cranston passing Burkham for fourth two laps later. Joey Danley joined the battle near the front the next time around before a caution.
Burkham moved back to fourth on the restart and Barrow advanced to second before Bubak cracked the top four with 11 to go.
Danley came to a stop on the next lap, the resulting yellow erasing Martin's big lead and putting Barrow, Ramey and Bubak on his tail.
Ramey again took the second spot with five circuits remaining and Bubak followed him into third the next time around. Action slowed again with three to go, setting up a dash to the finish.
Ramey used the bottom of the track to pull alongside Martin coming out of turn two on the restart, making contact as they entered the backstretch. Ramey then pulled ahead of Martin and held him off for the win.
Steven Shebester won the second qualifying feature, and Andy Shouse scored the $1,000 Jake Ita Memorial Race of Champions, rescheduled because of weather from Saturday to Sunday.
Feature results – 1. Kevin Ramey, Fort Worth, Texas; 2. Jason Martin, Lincoln; 3. Jake Bubak, Arvada, Colo.; 4. Ethan Barrow, Bloomington, Ind.; 5. Luke Cranston, Holcomb, Kan.; 6. Stuart Snyder, Lincoln; 7. Clint Benson, Papillion; 8. Claud Estes, Godley, Texas; 9. Steven Shebester, Mustang, Okla.; 10. Anton Hernandez, Arlington, Texas; 11. Adam Gullion, Lincoln; 12. Mike Houseman Jr., Des Moines, Iowa; 13. Justin Fifield, Mesquite, Texas; 14. Ryan Kitchen, Lincoln; 15. Zach Blurton, Quinter, Kan.; 16. Casey Burkham, Combine, Texas; 27. Cody Ledger, Omaha.17. Zach Newlin, Millerstown, Pa.; 18. Chad Wilson, North Richland Hills, Texas; 19. Jason Danley, Lincoln; 20. Shon Pointer, Grand Island; 21. Dusty Ballenger, Harrisburg, S.D.; 22. Kaleb Johnson, Sioux Falls, S.D.; 23. Nathan Weiler, LaVista; 24. Joey Danley, Lincoln; 25. Tyler Thompson, Des Moines, Iowa; 26. Jason Howell, Fort Worth, Texas;
Race of Champions – 1. Andy Shouse, Oklahoma City, Okla.; 2. Bubak; 3. John Carney II, Lubbock, Texas; 4. Martin; 5. Howell; 6. Houseman; 7. Barrow; 8. Mike Moore, Des Moines, Iowa; 9. Johnson; 10. Newlin; 11. Blurton; 12. Scott Lutz, Jonestown, Pa.; 13. Robert Vetter, Wolfe City, Texas; 14. Colin Smith, Sheldon, Iowa; 15. Ballenger; 16. Matt Richards, Lincoln; 17. Ramey; 18. Tyler Drueke, Eagle; 19. Gullion; 20. Shebester.