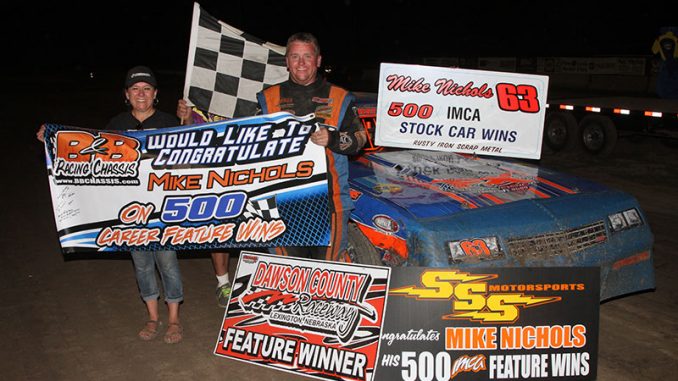 HARLAN, Iowa – Mike Nichols started racing 20-some years ago with aspirations that didn't go much further than simply winning a heat race.
On Sunday, the overachiever raced to his career 500th IMCA Sunoco Stock Car feature victory during Dawson County Raceway's Connie Jewett Memorial.
"Somewhere in early, mid-July, things were clicking pretty good for us and I started thinking that we might be able to get to 500 wins this year," Nichols said. "I didn't want to get close and then have it lingering over us all winter."
The Aug. 26 win at the Lexington, Neb., oval was his 39th of the season and came in a stellar field that included David Murray Jr., IMCA's all-time single division leader with 550 career Modified checkers.
Just the second driver in IMCA history to reach the 500 win mark, Nichols used a word of his own making – ironical – to describe having to pass Murray to accomplish the feat.
"After my 99th, 199th, 299th and 399th wins, we won the next night out," he said. "After I won my 499th at Boone County Raceway (on Aug. 17) we raced twice at Shelby County Speedway. It would have been nice to win at my hometown track but I finished sixth one night and third the next."
His IMCA-best total of 34 track championships already includes eight Dawson County titles in the last nine years. Chasing a record-extending eighth national championship, Nichols won features at 11 tracks in four states, including 13 victories in racing to another perfect season at Lexington.
"Dawson County is always racy. It fits my driving style and you can run the same gear there on Sunday that you do Saturdays at Harlan," noted Nichols. "It's a four-hour trip one way for us but the fans appreciate good racing and we enjoy racing there."
"When I started racing I had hoped to win a heat race. I've been a loyal supporter of IMCA weekly racing for more than 20 years and it's hard to believe the success we've had," said Nichols, who enjoyed a career-best 54 victories in 2016 and won his first IMCA Speedway Motors Super Nationals fueled by Casey's main event last year. "Divide 500 wins by 20 years and it shows we've been able to stand the test of time, and the biggest reason why is the dedication by our entire team."
"My 300th and 400th wins seemed like stepping stones. My 500th feels like a milestone," he added. "It's good to have it behind us because now we can concentrate on racing and having fun."
How much longer he'll be racing and having fun remain to be determined. Nichols turns 41 in early September and is juggling work, college and building a new home as well as racing.
"Mother Nature and Father Time are always working against you but I'm still having as much fun racing and helping other guys as I ever have," Nichols said. "One of the neatest things that happened after I won my 500th feature was when I guy I've been helping came up to thank me. It's cool to see other guys be successful as well."