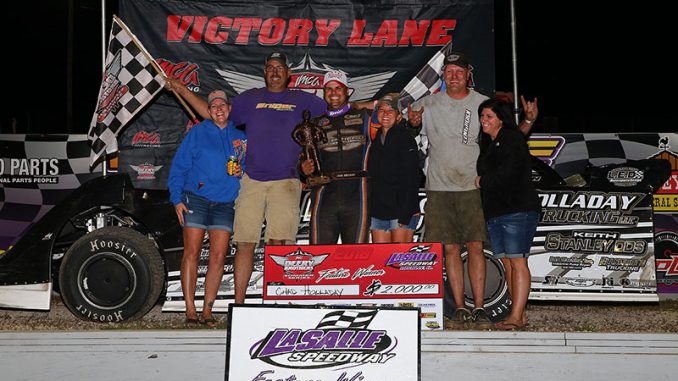 LASALLE, Ill. (Aug. 4) – The winner of the last One Night Stand main event became the winner of the first Deery Brothers Summer Series feature held at LaSalle Speedway.
Chad Holladay made his way from fifth to first following one late restart, then held off hard charger Cayden Carter following a caution with three laps left in winning Saturday's IMCA Late Model tour feature at the North Central Illinois oval.
"I definitely did not want to see that last caution. I knew Cayden was right there," said Holladay, $2,000 richer after his second series victory of the season. "He had run (and won) a really good Modified race right before but I was able to hold on and win by about a car length."
While Holladay made his way up from eighth starting, Carter had started 15th after running second in his 'B' feature.
Pole starter Darrel DeFrance, Matt Ryan and point leader Justin Kay completed the top five in a 50-lapper contended on a track that stayed fast top to bottom.
Holladay bided his time between the fifth and seventh spots, beginning his move toward the front after a lap 19 caution.
He drove past Jeremiah Hurst, Carter and Ryan before passing DeFrance for the lead and staying in front to the finish.
Holladay had led all 40 laps in winning the second of two One Night Stand features last August. He'd also won the Deery race at CJ Speedway two and a half weeks ago.
"Like everybody else, we keep a notebook," he said after his career third Deery win. "We went back to look at what we ran and any changes we made last year."
Chad Coyne was the $250 Sunoco Race Fuels feature qualifier drawing winner.
While Carter collected the $3,000 IMCA Modified prize, Tyler Soppe scored the $1,200 Karl Chevrolet Northern SportMod checkers.
Next up for the 32nd annual Deery Series is the opening night show Monday, Sept. 3 at the IMCA Speedway Motors Super Nationals fueled by Casey's at Boone Speedway. Winning that event could be worth as much as $3,500.
The series concludes Sept. 21 at Davenport Speedway.
Feature results – 1. Chad Holladay, Muscatine, Iowa; 2. Cayden Carter, Oskaloosa, Iowa; 3. Darrel DeFrance, Marshalltown, Iowa; 4. Matt Ryan, Davenport, Iowa; 5. Justin Kay, Wheatland, Iowa; 6. Jeremiah Hurst, Dubuque, Iowa; 7. Todd Cooney, Pleasant Hill, Iowa; 8. Terry Neal, Ely, Iowa; 9. Chuck Hanna, Port Byron; 10. Nick Marolf, Moscow, Iowa; 11. Darin Duffy, Urbana, Iowa; 12. Ryan Dolan, Lisbon, Iowa; 13. Doug Nigh, Maquoketa, Iowa; 14. Joe Zrostlik, Long Grove, Iowa; 15. Mike Guldenpfennig, Muscatine, Iowa; 16. Jay Johnson, West Burlington, Iowa; 17. Curt Martin, Independence, Iowa; 18. Lake Knutti, Chadwick, Ill.; 19. Kirby Schultz, Albia, Iowa; 20. Curt Schroeder, Newton, Iowa; 21. Chad Coyne, Orion; 22. Shawn Mulvany, Moline, Ill.; 23. Rob Toland, Colona; 24. Gary Webb, Blue Grass, Iowa.