HAYS, Kan. (July 13-14) – Jake Martens scored his second big United Rebel Sprint Series victory of the year as he charged from the fifth starting spot to claim the $2,000 Wheatshocker Nationals checkers Sunday at RPM Speedway.
Front row starter Brian Herbert had begun to pull away until Martens reeled him in and took over the front spot on lap 10.
Martens stretched his lead to a full straightaway as Jake Bubak took over second place on lap 17.
The race was slowed by the only caution of the night on lap 26 but Martens was untouchable, winning ahead of Bubak and Darren Berry.
Bubak's victory in the Saturday's preliminary IMCA RaceSaver Sprint Car feature and his second place finish Sunday earned him the Pit Boss Pellet grille from Lance Pittman of S&W Supply for being the overall high point driver for the two-day event.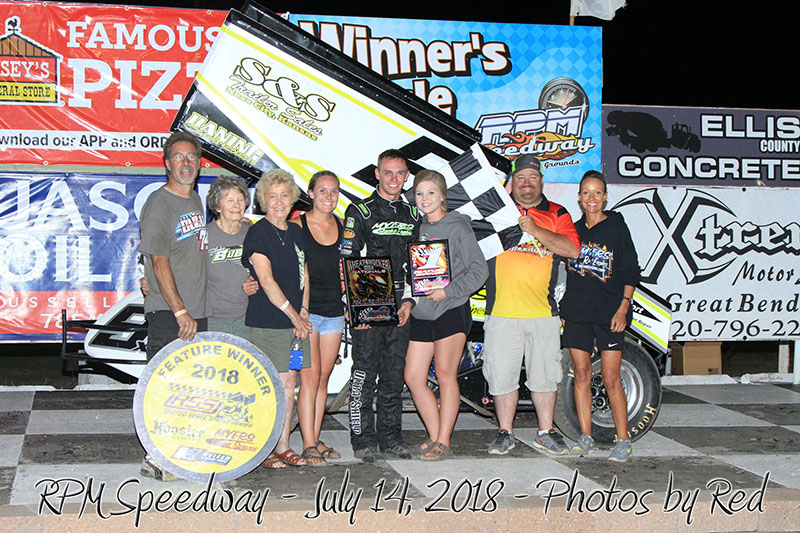 Ty Williams and Zach Blurton both did stints at the front of the Saturday field. Blurton and Mar­tens went low on lap 15 and opened the door for the rim-riding Bubak, who drove around both and never looked back as he took his first URSS victory of the season.
Blurton ended in second, Martens in third.
Feature Results
Saturday – 1. Jake Bubak; 2. Zach Blurton; 3. Jake Martens; 4. Steven Richardson; 5. Luke Cranston; 6. Jordan Knight; 7. Jed Werner; 8. Buddy Tubbs; 9. Brandy Jones; 10. Coby Pearce; 11. Tracey Hill; 12. Brian Herbert; 13. Nick Haygood; 14. Ty Williams; 15. Austin McLean; 16. Todd Plemons; 17. Tyler Knight; 18. Shane Sundquist; 19. Lance Davis; 20. Cody Hays
Sunday – 1. Martens; 2. Bubak; 3. Darren Berry; 4. Herbert; 5. Richardson; 6. McLean; 7. Tyler Knight; 8. Cranston; 9. Blurton; 10. Williams; 11. Pearce; 12. Hill; 13. Jones; 14. Werner; 15. Lut­ters; 16. Tubbs; 17.  Haygood; 18. Aaron Ploussard; 19. Jordan Knight; 20. Plemons.