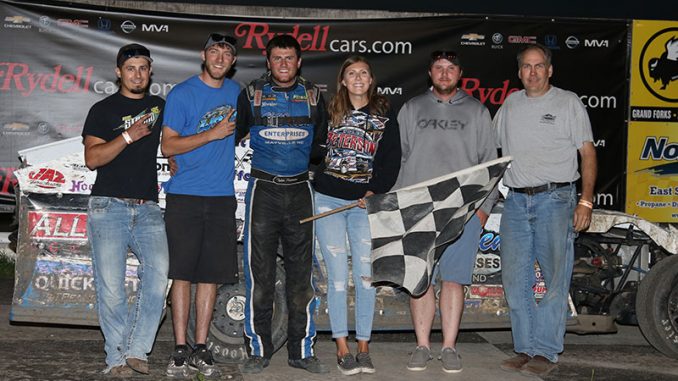 By Mike Spieker
GRAND FORKS, N.D. (July 6) – The Dirt Dominator series continued Friday at River Cities Speedway in Grand Forks. Tyler Peterson picked up a thrilling win in the finals to punch his ticket to the $10,000-to-win Dirt Dominator finale at Heart O' Texas Speedway in Waco on Oct. 25. 
It was no easy drive to the finals for Peterson. The Hickson, N.D., driver was paired with Casey Arneson, who won the IMCA Modified feature earlier in the evening. After getting by Arneson, Peterson was paired with Marcus Tomlinson before facing weekly local foe Rob VanMil. Peterson snuck by VanMil to meet hometown hero Dustin Strand. 
Strand won the coin flip for lane choice and elected to start on the low groove.
The duo picked up the pace out of turn two and were door to door exiting turn four to take the green flag. They made contact on the front stretch heading into turn one with Peterson holding a half car length advantage. 
Peterson opened up his lead to five car lengths as he took the white flag as the cruised to the $1,000 payday.
"Starting off of turn two, I knew I needed to get a good jump. I really liked the bottom but Dustin won the coin toss and took it. We got into it on the front stretch, but it was hard racing for a thousand bucks. That was a lot of fun out there," said Peterson in victory lane. "I love this place and have a lot of laps around here. We just set up the car the best we could and gave it everything we had." 
Sweet 16:
Tyler Peterson defeated Casey Arneson; Marcus Tomlinson defeated Dan Dowling; Rob VanMil defeated Rusty Kollman; Zach Dockter defeated Joey Rowell; Lucas Rodin defeated Nick Curtis; Rich Pavlicek defeated Jesse Skalicky; Dustin Strand defeated Bryce Borgen; and Darren Pfau defeated Dustin Hartwig. 
Elite 8:
Peterson defeated Tomlinson; VanMil defeated Dockter; Pavlicek defeated Rodin; and Strand defeated Pfau. 
Final 4:
Peterson defeated VanMil; and Strand defeated Pavlicek. 
Final:
Peterson defeated Strand.