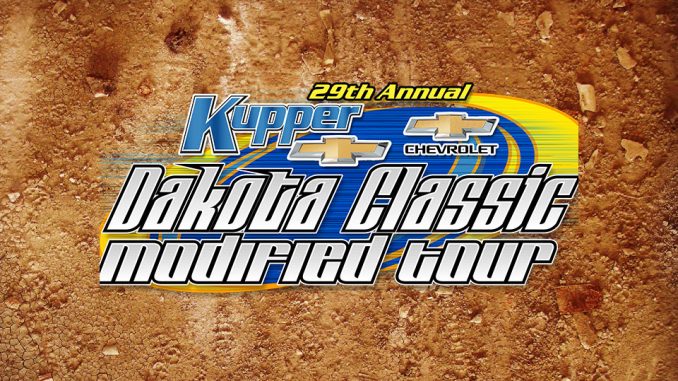 By Mike Spieker
JAMESTOWN, N.D. (July 7) – The 29th annual Kupper Chevrolet Dakota Classic IMCA Modified Tour got underway Saturday at Jamestown Speedway with a familiar name in victory lane as two-time and defending champion Hunter Marriott, picked up the opening night win in convincing fash­ion.
Marriott took the point as the race resumed after an early restart with Mark Dahl and John Corell in tow. Several cautions plagued the opening circuits, but once the race endured a green flag stretch, Marriott checked out.
Seventh starting R.C. Whitwell quickly moved into the second spot as Dahl and Corell continued to battle. Marriott reached lapped traffic at the halfway point, but by then he had already estab­lished a full straightaway lead over Whitwell.
Seeming effortlessly, Marriott sliced through the dense traffic before increasing his advantage in the final stages. Marriott cruised to the win over Whitwell, while Jeff Taylor came from 12th to round out the podium. Dahl and Corell rounded out the top five.
"The car felt really good tonight. I've never won here in Jamestown … never actually ran well here at all," Marriott said after the $2,454 checkers. "It was definitely a good night for us and a good start to the tour. I passed that first lapped car and I saw a nose under me and I thought it was R.C. (Whitwell) so I just held the bottom. I didn't know if that was him or if he was right on me or not. It was just a great night of racing."
Eighty-one Modifieds were checked in for the lidlifter at Jamestown.
In his first attempt at a Dakota Classic tour event, Jason Rogers made the haul from Kansas scored the IMCA Sunoco Stock Car feature win.
After a nine-car pile up on the opening lap, Eric Harpole showed the way in the early going. Rog­ers grabbed the lead for Harpole on lap five and enjoyed the lead until a restart put Angel Munoz right behind him.
Munoz put heavy pressure on Rogers for the lead on lap 11 of 25, but Rogers held a smooth and steady line around the low side of the speedway. Munoz pulled even with Rogers with 12 to go as Munoz became the only car in the top five to run the middle groove.
The low side prevailed for Rogers as he held off Munoz's charge and went on to score the victory.
Munoz held on for second, while Joe Flory charged from 21st to finish third. Ricky Thornton Jr., who had to restart at the tail after being involved in an incident, rebounded to finish fourth, while 20th place starter Matt Speckman rounded out the top five.
Feature Results
Modifieds –  1. Hunter Marriott; 2. R.C. Whitwell; 3. Jeff Taylor; 4. Mark Dahl; 5. John Corell; 6. Jason Wolla; 7. Marlyn Seidler; 8. Kelly Shryock; 9. Tim Ward; 10. Tyler Peterson; 11. Casey Arneson; 12. Ricky Thornton Jr.; 13. Dan Aune; 14. Jesse Skalicky; 15. Ethan Dotson; 16. Jordan Huettl; 17. Billy Kendall III; 18. Jason Beaulieu; 19. Aaron Turnbull; 20. Shawn Strand; 21. Jer­emy Keller; 22. Jamie Trautner; 23. Steven Pfeifer; 24. Drew Christianson; 25. Brad Hartigan; 26. Travis Ulmer; 27. Troy Girolamo; 28. Hank Berry; 29. Jesse Hoeft.
Stock Cars – 1. Jason Rogers; 2. Angel Munoz; 3. Joe Flory; 4. Ricky Thornton Jr.; 5. Matt Speckman; 6. Andy Altenburg; 7. Kirk Martin; 8. Colin Heim; 9. Eric Harpole; 10. Scott Gartner; 11. Alan Bertsch; 12. Austin Daae; 13. Jake Nelson; 14. Beau Deschamp; 15. Justin Medler; 16. Jeremy Swanson; 17. Rob VanMil; 18. Chris Ellis; 19. Elijah Zevenbergen; 20. Scott Yale; 21. Dalton Flory; 22. Blake Adams; 23. Rob Stenvold; 24. Curt Lund.