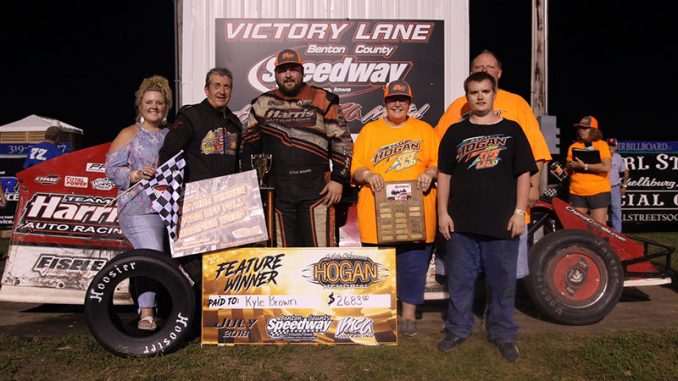 VINTON, Iowa (July 3) – Kyle Brown had one win and a bunch of fourth-place finishes going into Tuesday's Hogan Memorial.
He had the most prestigious win of his IMCA Modified career when it was time to load up the trailer following the 24th annual special at Benton County Speedway.
Brown pounced when leader Troy Cordes got out of line with seven circuits to go in the 50-lapper, charging to the front and outrunning defending race winner Hunter Marriott to the checkers.
Forty Modified drivers from across three states were entered and Cordes, two-time Hogan winner Richie Gustin and Chris Simpson completed the top five in a main event that played out in front of a packed grandstand.
Four different drivers took turns in the lead in a race interrupted by caution just once.
"I don't know what it paid to win," said Brown, who had yet to look at the $2,683 amount written on the presentation check he received in victory lane, "but it feels real good to put up a win against this competition. These are the guys a lot of the guys I talk to all week want to beat."
While the owner of Harris Auto Racing has enjoyed Frostbuster and regular season success at Vinton in the past, the Tuesday win was the Hogan Memorial first for Brown. His best finish in five previous career starts had been third, in 2015.
"I have not had the best luck at the Hogan in the past," Brown said. "We've been solid all year and have joked about what does fourth place pay, but we knew we had a good car tonight. We made some slight changes during the five minute break (at midway) and about the last 10 laps I felt like we were really good."
The win put Brown on the ballot for the upcoming Fast Shafts All-Star Invitational and also doubled as a Dash at the Harris Clash qualifier.
Jeff Aikey led most of the first half before Gustin got by again on lap 21 and pocketed the $450 halfway leader bonus.
Cordes, another former Hogan winner, quickly went from second to the lead when the race was restarted. He was pulling away before the only caution of the night waved on lap 32.
Brown had started the race from 10th and from fifth on the restart. He moved into second on lap 33 and gained ground on Cordes as they ran in traffic.
Cordes went high in turn three, opening the door for Brown with seven to go. He focused on his marks from that point while Marriott got by Cordes for runner-up honors with two laps left.
Hard charger Cayden Carter advanced 13 positions from his spot on the original starting grid and finished sixth. Patrick Flannagan qualified for his record 19th consecutive main event.
Jeff Mueller followed the lower line to the $1,000 IMCA Sunoco Stock Car win while Dylan Nelson's first visit to Vinton ended with the $750 IMCA Sunoco Hobby Stock victory.
After a post-race ride into the adjoining bean field, Karl Chevrolet Northern SportMod driver Austen Becerra made his way to the winner's circle and picked up a $775 check.
One hundred and thirty-five drivers from four states and Australia vied Tuesday at Vinton.
Feature Results
IMCA Modifieds – 1. Kyle Brown, Madrid; 2. Hunter Marriott, Brookfield, Mo.; 3. Troy Cordes, Dunkerton; 4. Richie Gustin, Gilman; 5. Chris Simpson, Oxford; 6. Cayden Carter, Oskaloosa; 7. Jeff Aikey, Cedar Falls; 8. Todd Shute, Des Moines; 9. Joel Rust, Grundy Center; 10. Corey Dripps, Reinbeck; 11. Brad Dierks, Clarence; 12. Bryce Garnhart, Shannon, Ill.; 13. Jarrett Brown, Ainsworth; 14. Kelly Shryock, Fertile; 15. J.D. Auringer, Waterloo; 16. Brennen Chipp, Waterloo; 17. Ronn Lauritzen, Jesup; 18. Dennis LaVeine, Burlington; 19. Jason Snyder, Dunkerton; 20. Jerry Dedrick, Shellsburg; 21. Chris Snyder, Dunkerton; 22. Ed Thomas, Waterloo; 23. Patrick Flannagan, Cedar Rapids; 24. Racer Hulin, Laurel; 25. Scott Hogan, Vinton; 26. Derrick Stewart, Ainsworth.
IMCA Sunoco Stock Cars – 1. Jeff Mueller, Albion; 2. John Oliver Jr., Danville; 3. Jay Schmidt, Tama; 4. Todd Reitzler, Grinnell; 5. Johnny Spaw, Cedar Rapids; 6. Jared Weepie, Dunkerton; 7. Scooter Dulin, Cedar Rapids; 8. Dan Trimble, Fairbank; 9. Jared Daggett, Marshalltown; 10. Norman Chesmore, Rowley; 11. Shane Ebaugh, Evansdale; 12. Kevin Rose, Waterloo; 13. LaVerne Carey, Ionia; 14. Cody Frerichs, Bristow; 15. Russell Damme Jr., Waterloo; 16. Hannah Chesmore, Rowley; 17. Damon Murty, Chelsea; 18. Jeremy Clement, Cedar Rapids.
IMCA Sunoco Hobby Stocks – 1. Dylan Nelson, Adel; 2. Nathan Ballard, Marengo; 3. Brett Vanous, Quasqueton; 4. Scott Pippert, Elberon; 5. Leah Wroten, Independence; 6. Mike Kimm, Vinton; 7. Mike Kincaid, Cincinnati; 8. Justin Wacha, Vinton; 9. Justin Ginther, Jesup; 10. Seth Janssen, Ogden; 11. Matt Brown, Dysart; 12. David Simpson, Des Moines; 13. Jacob Floyd, Cedar Rapids; 14. Jeremiah Andrews, Union; 15. Breydon Forbes, Waterloo; 16. Scott Siems, Cedar Rapids; 17. Kenzie Ritter, Keystone; 18. Randy Byerly, Tipton; 19. Amy Thomas, Brandon; 20. Brandon Schneider, Machanicsville; 21. Cody Williams, Minneapolis, Kan.; 22. Kyle Dulin, Keystone; 23. Luke Bird, Winthrop; 24. Jeremiah Wilson, Waterloo.
Karl Chevrolet Northern SportMods – 1. Austen Becerra, Carthage, Ill.; 2. Joe Docekal, Dysart; 3. Tyler Soppe, Sherrill; 4. Austin Howes, Memphis, Mo.; 5. Jake McBirnie, Boone; 6. Daniel Fellowes, Keokuk; 7. Colby Fett, Algona; 8. Kyle Olson, Cedar Rapids; 9. Sam Wieben, Dysart; 10. Gage Neal, Ely; 11. Ben Chapman, Clarence; 12. Vern Jackson, Waterloo; 13. Ethan Braaksma, Newton; 14. Tony Olson, Cedar Rapids; 15. Dustin Schram, Sterling, Ill.; 16. Joey Schaefer, Waterloo; 17. Jacob Ellithorpe, Maquoketa; 18. Austin Heacock, Peosta; 19. Brandon Tharp, Vinton; 20. Andy Hunter, Independence; 21. Brady Hilmer, Dysart.