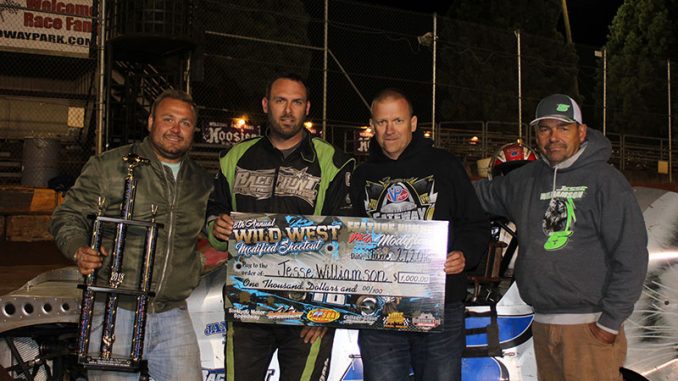 By Ben Deatherage
BANKS, Ore. (June 27) – The driver with the most Wild West Shootout career wins to his credit became the first repeat winner in the 2018 IMCA Modified tour Wednesday at Sunset Speedway Park.
Four-time and defending champion Jesse Williamson topped the Banks show, and earned $1,000 for his career 12th victory. He'd also won on June 25 at Cottage Grove Speedway.
John Campos seized the top spot at the drop of the green flag and remained in front until lap five, when Bricen James made it around him.
James had the car to beat but unfortunately suffered mechanical issues while under caution on lap 22 and Campos inherited the lead.
Williamson made the crucial pass on Campos on lap 27 to become the third different leader of the race.  He stayed in front to the finish to win for the fourth time at Sunset Speedway Park.
Campos was second followed by Ethan Dotson.  Collecting fourth was Grey Ferrando while fifth went to Collen Winebarger.
Feature results – 1. Jesse Williamson; 2. John Campos; 3. Ethan Dotson; 4. Grey Ferrando; 5. Collen Winebarger; 6. Brian Wulfenstein; 7. Jeff Lovell; 8. Dustin Cady; 9. Lawrence O'Connor; 10. Justin Duty; 11. Doug Lockwood; 12. Derrick Young; 13. Jimmy Schram; 14. D.J. Shannon; 15. Curtis Towns; 16. Bricen James; 17. Greg Walters; 18. Danny Lauer; 19. Mark Wauge; 20. Aaron Sheelar.