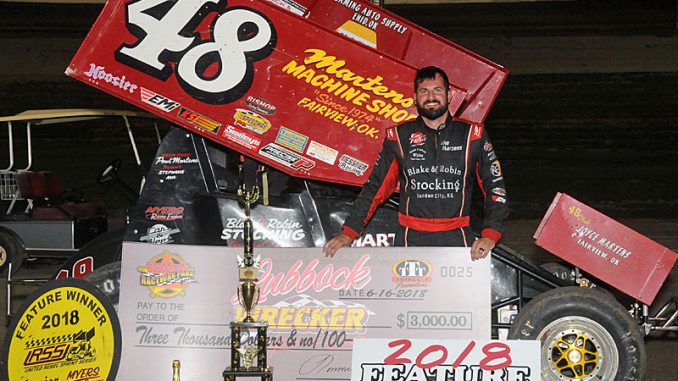 By Lonnie Wheatley
DODGE CITY, Kan. (June 16) – Jake Martens survived a wild last lap to pocket more than $4,000 by winning Saturday's Lubbock Wrecker Service DCRP vs. URSS 305 Sprint Car Nationals 30-lap championship feature at Dodge City Raceway Park.
Martens took the lead away from Brian Herbert, then kept Chad Koch at bay before escaping a last-lap slider from Jake Bubak to pocket $4,040, an amount that included $1,040 in lap money along with the posted $3,000 IMCA RaceSaver Sprint car winner's share.
Martens raced to the stripe ahead of Koch and 15th starting Luke Cranston for the lucrative pay­day.
Brian Herbert gunned into the lead at the outset and paced the early rounds with Martens making his way into second soon after the first of just two cautions flew on lap 10.
Martens finally made his way into the lead on the 19th circuit with Koch racing into second on the same lap and the surging Cranston taking over third on the 20thround.
The stage was set for a dicey final 10 laps with Martens, Koch, Cranston and Jake Bubak all in the mix for the win.  With the white flag in the air, Bubak dove into turn one and slid past both Koch and then Martens to briefly take the lead.  But as Martens drove off turn two, contact be­tween the two cars sent Bubak looping into the infield.
After winning the 'B' feature, 21st starting Jason Martin charged through the field to capture fourth and earn the Keizer Wheels Hard Charger award with Zach Blurton rounding out the top five.
Feature results – 1. Jake Martens; 2. Chad Koch; 3. Luke Cranston; 4. Jason Martin; 5. Zach Blurton; 6. Tony Bruce Jr.; 7. Brian Herbert; 8. Ray Seemann; 9. Austin McLean; 10. J.D. John­son; 11. Nick Haygood; 12. Tyler Knight; 13. Koby Walters; 14. Ty Williams; 15. Jordan Knight; 16. Jed Werner; 17. Steven Richardson; 18. Jake Bubak; 19. Ross Essenburg; 20. Taylor Ve­lasquez; 21. Lance Davis; 22. Lonnie Cox; 23. Brett Becker; 24. Todd Plemons.