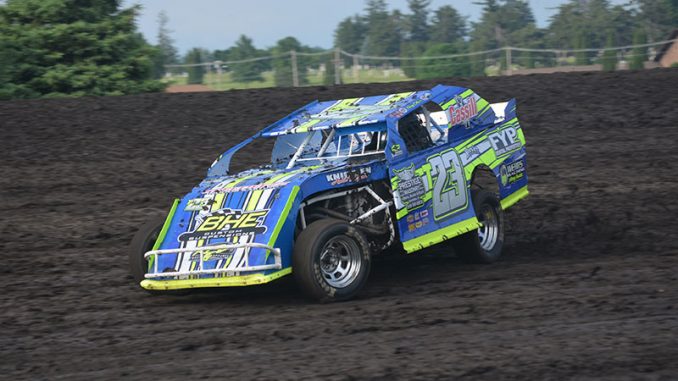 VINTON, Iowa (June 10) – Richie Gustin and Tony Olson took home the top checks from Benton County Speedway's Iowa Donor Network Urbana 5 Memorial Sunday night.
Already on the Fast Shafts All-Star Invitational ballot, Gustin started third in the IMCA Modified 20-lapper and took the lead from Brennen Chipp with just a few circuits scored.
Gustin pulled away before the seventh starting Troy Cordes found the fastest line and began making up ground. Cordes closed on Gustin and nearly drew even until a late caution. Gustin then pulled away for the $1,000 victory while Dripps worked past Cordes for second.
Also the winner of 2015 and 2016 IDN/Urbana 5 Karl Chevrolet Northern SportMod features, Olson started third row and raced the low side to the front early on.
He'd withstand pressure from Joe Docekal, winner of Friday's SportMod Challenge at Davenport Speedway, following two early yellows and again on a green, white, checkered finish. That win was good for $1.300.
Ryan Dolan took advantage of his pole position start to earn his second IMCA Late Model win this season at Vinton while Damon Murty worked past John Oliver Jr. on a lap five restart and went on to win his third local IMCA Stock Car feature of the year.
Leah Wroten passed Bradly Graham in lapped traffic on the final set of turns to top the IMCA Sunoco Hobby Stock feature.
The fourth annual event was held in memory of five area youth killed in a 2015 traffic accident near Urbana and was contested by more than 130 cars.
Feature Results
Modifieds – 1. Richie Gustin; 2. Corey Dripps; 3. Troy Cordes; 4. Joel Rust; 5. Brennen Chipp; 6. Tyler Madigan; 7. Jeff Aikey; 8. Matt Short; 9. Ronn Lauritzen; 10. Zach Less; 11. Scott Hogan; 12. Chris Snyder; 13. Kurt Hogan; 14. Patrick Flannagan; 15. Jerry Dedrick; 16. Dennis Betzer; 17. Griffin McGrath; 18. Todd Jensen; 19. Joe Bonney; 20. Kyle Brown; 21. Dustin Morden; 22. Jesse Belez; 23. Tommy Belmer; 24. Jeff Sampson; 25. Jim Aschenbrenner.
Late Models – 1. Ryan Dolan; 2. Todd Cooney; 3. Darren Ackerman; 4. Terry Neal; 5. Luke Pestka; 6. Kelly Pestka; 7. Bryce Carey; 8. Bobby Hansen; 9. Scott Welsh; 10. Shawn Cooney; 11. Curt Schroeder; 12. Joe Zrostlik.
Stock Cars – 1. Damon Murty; 2. John Oliver Jr.; 3. Dustin Vis; 4. Norman Chesmore; 5. Dan Trimble; 6. Russell Damme Jr.; 7. Shane Ebaugh; 8. Lonnie Mercer; 9. Tyler Carey; 10. Jerry Schipper; 11. Jeremy Clement; 12. Kevin Rose; 13. Bob Ahrendsen; 14. Scooter Dulin; 15. Ian Huff; 16. Reece Norton.
Northern SportMods – 1. Tony Olson; 2. Joe Docekal; 3. Kyle Olson; 4. Gage Neal; 5. Jacob Ellithorpe; 6. Ben Chapman; 7. Tyler Soppe; 8. Ryan King; 9. Jake McBirnie; 10. Jared VanDeest; 11. Danny Dvorak; 12. Mike McDonald; 13. Brandon Tharp; 14. Brady Hilmer; 15. Jamie Huff; 16. Michael Carter; 17. Chuck Lewis; 18. Dakoda Sellers; 19. Ethan Braaksma; 20. Sam Wieben; 21. Will Forester; 22. Vern Jackson; 23. Jarrett Franzen; 24. Brian Sondag; 25. Steve Wimer.
Hobby Stocks – 1. Leah Wroten; 2. Bradly Graham; 3. Matt Brown; 4. Justin Wacha; 5. Brett Vanous; 6. Jim Ball; 7. Mike Kimm; 8. Daniel Wauters; 9. Jacob Floyd; 10. August Bach; 11. Kyle Parizek; 12. Breydon Forbes; 13. Jeremiah Andrews; 14. Trenton Neuhaus; 15. Tanner Bodecker; 16. Brandon Schneider.