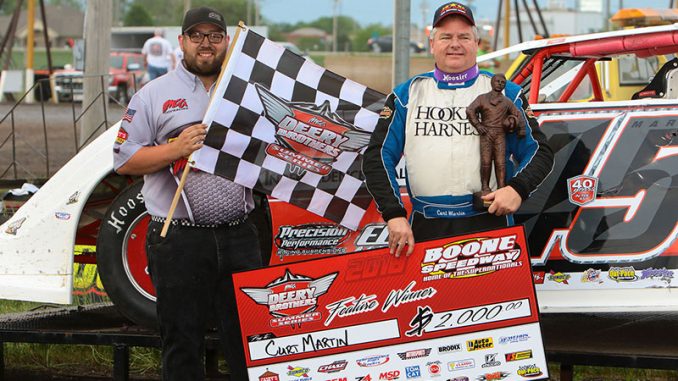 BOONE, Iowa (May 28) – A driver who knows a thing or two about winning streaks ended one and started one of his own Monday night at Boone Speedway.
Curt Martin led all but one of 40 laps in winning the Memorial Day Deery Brothers Summer Series event at Boone, earning $2,000 for his career 27th IMCA Late Model tour victory.
His convincing run at the front ended Justin Kay's bid for a record fifth consecutive series victory. Jeremiah Hurst finished a distant second, with Ryan Dolan, Kay and Joe Zrostlik rounding out the top five.
Martin drew the pole and gave up the lead early to Hurst for a single circuit before resuming com­mand. Just a couple cautions slowed what was otherwise a fast-paced feature but Martin edged ahead on lap 10 and 22 restarts.
Hurst was the $250 Sunoco Race Fuels feature qualifier drawing winner.
Martin and Kay are now tied for third on the all-time series wins list; Martin had been the first Deery driver to win three straight features, doing so twice in 1990 when he earned the first of back-to-back tour championships.
He'd last won at Boone during the 1999 IMCA Speedway Motors Super Nationals fueled by Ca­sey's.
The fifth stop on the 2018 Deery Series schedule is Tuesday, June 5 at Marshalltown Speedway. The Steve Priske Miller Lite 50 pays $2,000 to win and a minimum of $300 to start.
Feature results – 1. Curt Martin, Independence; 2. Jeremiah Hurst, Dubuque; 3. Ryan Dolan, Lisbon; 4. Justin Kay, Wheatland; 5. Joe Zrostlik, Long Grove; 6. Jason Hahne, Webster City; 7. Chad Holladay, Muscatine; 8. Nick Marolf, Moscow; 9. Todd Cooney, Pleasant Hill; 10. John Emer­son, Waterloo; 11. Rob Toland, Colona, Ill.; 12. Charlie McKenna, Clear Lake; 13. Kyle Krampe, Baxter; 14. Shawn Cooney, Bondurant; 15. Luke Pestka, Robins; 16. Greg Kastli, Water­loo; 17. Tim Simpson, Iowa City; 18. Cayden Carter, Oskaloosa; 19. Matt Ryan, Davenport; 20. Rob Moss, Iowa City; 21. Andy Nezworski, Buffalo; 22. Darrel DeFrance, Marshalltown; 23. Chad Coyne, Orion, Ill.; 24. Richie Gustin, Marshalltown.