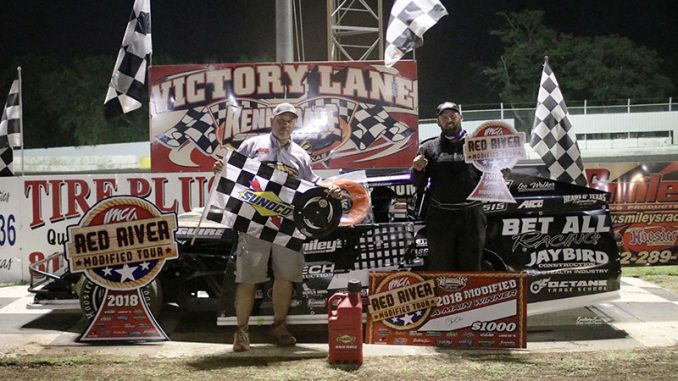 By Spieker Promotions
KENNEDALE, Texas (May 26) – Chase Allen scored the opening night win of the inaugural Red River IMCA Modified Tour at Kennedale Speedway Park Saturday night. Allen claimed the lead on lap 11 of the 25-lap event before having to hold off Jeffrey Abbey in the closing stages.
Eric Tomlinson started on the outside of the front row and led the field of 24 on the opening lap. Tomlinson pulled away in the early laps, building a six-car length lead as several cars raced for second. Abbey won the battle for second and set his sights on Tomlinson for the lead.
Abbey closed the gap on lap eight and put heavy pressure on Tomlinson as the lead duo fought for position on the low side of the speedway. As the race for the lead was heating up, the caution was displayed for debris in turn four.
On the ensuing restart, third place runner Allen drove around the outside of Abbey to take se­cond. Allen stayed in the outside groove and pulled even with Tomlinson for the lead. Allen pa­tiently rolled around the outside of Tomlinson on the smooth and slick racing surface to take the lead.
"I knew if Abbey chose the bottom on the restart, I would have the line to drive around him," said Allen after the race. "It was a fun race out there. I'm happy we could pick up the win."
Allen ran the remainder of the race with little challenge. Abbey, gave it everything he had in the final circuits, pulling to within one car length of Allen on the white flag lap, but ran out of time.
Already on the Fast Shafts All-Star Invitational ballot, Allen scored the $1,000 win as Abbey and Tomlinson rounded out the podium.