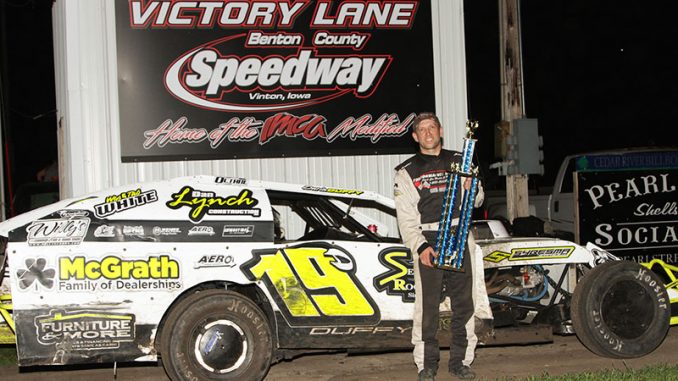 VINTON, Iowa (May 27) – Darin Duffy didn't remember any of the details of his last IMCA Modified feature win at Benton County Speedway.
He left the pit area with 2,000 reasons to remember his Sunday night Albert Auto Night Prelude victory.
Duffy led the last 11 circuits, outrunning Richie Gustin following restarts on lap 22 and then after a fi­nal caution that forced a green, white, checkered finish. He earned $2,000 along with a Fast Shafts All-Star Invitational ballot berth for his efforts.
"I could see Richie on the restarts but I was comfortable with the line I was running. I thought some­body would have to drive through me to get the lead if I didn't mess up," Duffy said. "The car was good and I was confident."
Primarily a special events driver now, Duffy's last points race win at Benton County came in Au­gust of 2001.
Gustin ended the night in second and early leader Troy Cordes was third. Jeff Aikey and Joel Rust rounded out the top five.
More than 140 cars saw in action in front of a very full grandstand during the holiday weekend special. In addition to Iowa, Modified entries were represented by entries from Arizona, Nevada and around the Midwest.
John Oliver Jr. took the lead on lap eight and beat Todd Reitzler to the checkers by not much more than a car length in winning the IMCA Sunoco Stock Car feature. Damon Murty restarted 18th af­ter an early yellow and charged back to third.
Nathan Ballard was best in the IMCA Sunoco Hobby Stocks, leading Kyle Parizek and Brett Vanous across the stripe.
Tyler Soppe went back and forth with Ben Chapman before securing the Karl Chevrolet Northern SportMod victory. Third was Tony Olson.
Feature Results
Modifieds – 1. Darin Duffy; 2. Richie Gustin; 3. Troy Cordes; 4. Jeff Aikey; 5. Joel Rust; 6. Kyle Brown; 7. Corey Dripps; 8. Jarrett Brown; 9. Matt Short; 10. Todd Shute; 11. Brennen Chipp; 12. Scott Hogan; 13. Jaden Fryer; 14. Jason Snyder; 15. Zach Less; 16. Jerry Dedrick; 17. Dennis Betzer; 18. Hunter Marriott; 19. Mark Schulte; 20. Josh Most; 21. Wade Taylor; 22. Ricky Thornton Jr.; 23. Gatlin Leytham; 24. Patrick Flannagan.
Stock Cars – 1. John Oliver Jr.; 2. Todd Reitzler; 3. Damon Murty; 4. Phil Holtz; 5. Scooter Dulin; 6. Bob Ahrendsen; 7. Dan Trimble; 8. Kevin Rose; 9. Norman Chesmore; 10. David Brandies; 11. Lon­nie Mercer; 12. Andrew Knode; 13. Shane Ebaugh; 14. Russell Damme Jr.; 15. Hannah Chesmore; 16. Ian Huff; 17. Jeremy Clement; 18. Justin Temeyer; 19. Jay Schmidt; 20. Tom Schmitt; 21. Tyler Carey.
Hobby Stocks – 1. Nathan Ballard; 2. Kyle Parizek; 3. Brett Vanous; 4. Justin Wacha; 5. Leah Wroten; 6. Matt Brown; 7. Randy Byerly; 8. David McQuiston; 9. Luke Bird; 10. Jacob Floyd; 11. Ryan Wells; 12. Jim Ball; 13. Kyle Dulin; 14. Jeremiah Andrews; 15. Mike Kimm; 16. Derrick Thran.
Northern SportMods – 1. Tyler Soppe; 2. Ben Chapman; 3. Tony Olson; 4. Joey Schaefer; 5. Joe Docekal; 6. Ryan King; 7. Chase Rudolf; 8. Gage Neal; 9. Danny Dvorak; 10. Austen Becerra; 11. Kyle Olson; 12. Randy Lamar; 13. Duane Roth; 14. Richard Nelson; 15. Jamie Huff; 16. Brady Hilmer; 17. Tommy Lathrop; 18. Will Forester; 19. Shane Paris; 20. Curt Hilmer; 21. Jacob Ellithorpe; 22. Kyle Bentley; 23. Brandon Tharp; 24. Doug Burkhead.