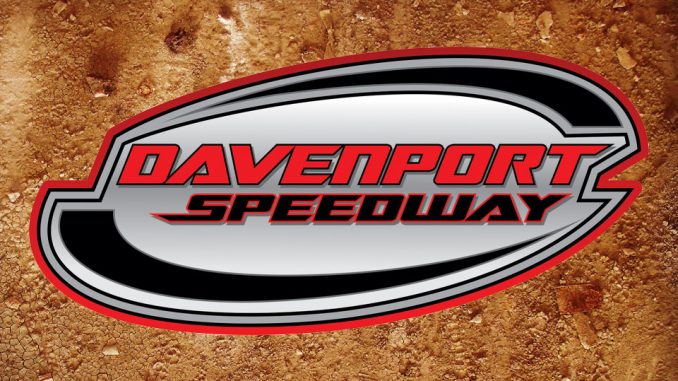 By Mike McGuire
DAVENPORT, Iowa (May 18) – Cayden Carter took home the $2,000 check from Davenport Speed­way's IMCA Modified Madness special Friday night.
Carter took the lead of the 50-lap main three times, including leading the last sixteen laps. Previ­ously Carter's best finish at Mod Madness came in 2016, with a ninth place result.
The main event started with Eric Barnes taking the early lead. Barnes and Carter raced side-by-side for a couple laps, with Carter taking the lead after a lap nine restart. Lap 13 saw Justin Kay take the lead on the high side.
In lapped traffic, Carter was able to regain the top spot, but a lap later, the yellow flag waved again. On the lap 27 restart, Kay again took the lead.
After back-to-back cautions on lap thirty-one, the high groove seemed to go away. Carter reeled in Kay again and took the lead for good. Kay finished in second, while Kyle Brown had to hold off a charging Richie Gustin for third. Eric Barnes completed the first five.
Andy Nezworski began a very good weekend with the win in the Petersen Plumbing & Heating IMCA Late Model feature.
Modified Madness brought 114 cars to the pit area making for a full and exciting night of stock car rac­ing action.
Feature results – 1. Cayden Carter; 2. Justin Kay; 3. Kyle Brown; 4. Richie Gustin; 5. Eric Barnes; 6. Tyler Droste; 7. Jeff Aikey; 8. Tyler Madigan; 9. Bruce Hanford; 10. Austin Moyer; 11. Brian Harris; 12. Jaden Fryer; 13. Kyle Montgomery; 14. Chris Zogg; 15. Rob Toland; 16. Bryce Garnhart; 17. Brad Dierks; 18. John Ahlers; 19. Kurt Kile; 20. Jordan Hicks; 21. Colby Spring­steen; 22. Milo Veloz; 23. Matt Werner; 24. Bob Dominacki.