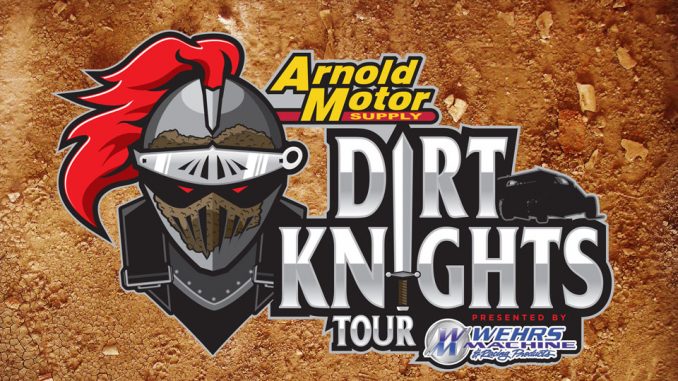 VINTON, Iowa – A familiar tour for IMCA Modifieds totes higher payouts at each of its eight race dates and a bigger point fund when the 2018 season is complete.
The Arnold Motor Supply Dirt Knights Tour opens on Monday, May 28 at Benton County Speed­way. A minimum of $2,000 will be paid to win and $200 to start each tour feature, with the cham­pion earning a $1,500 share of the nearly $10,000 point fund.
"This will be the seventh time we've started the tour at Vinton. The Prelude special the day before also pays $2,000 to win so it's possible for a driver to enjoy a $4,000 Memorial Weekend at Ben­ton County Speedway," IMCA President Brett Root said. "There's a lot to be excited about the upcoming tour. We've increased the payout and point fund, a passing points format will be new and the Dirt Knights will be featured on MAVTV."
"Plus," he added, "contingency awards will be given at each event and at the conclusion of the tour."
From Vinton, the tour travels out of state for the first time in its nine-year history, topping the card for the $10,000 to win Clash at the Creek at 141 Speedway in Francis Creek, Wis., on June 20-21.
Completing the schedule are dates June 29 at Farley Speedway; July 19 at Knoxville Raceway; July 23 at Park Jefferson Speedway in Jefferson, S.D.; July 24 at Hancock County Speedway in Britt; July 25 at Buena Vista Raceway in Alta; and Aug. 6 at Clay County Fairgrounds in Spencer.
"This is a pretty good schedule. The three-night swing in July is in a corner of the state that histori­cally has supported the tour very well," noted Root. "It's very appropriate that the final race is in Spencer, the hometown of tour title sponsor Arnold Motor Supply."
All events will be scored with MyLaps transponders. Twelve cars will qualify from heat races; 'B' features will be lined up by points earned in heats.
After the third tour event, provisionals will be awarded to the top two qualifying drivers with perfect at­tendance, based on point standings. Promoters have the option to add track provisional(s) start­ing 25th on back.
The tour ran under the Hawkeye Dirt Tour banner from 2010-2017.