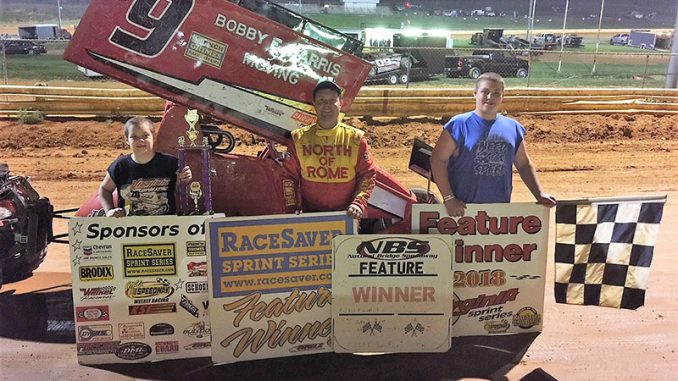 By Jim Haines
NATURAL BRIDGE, Va. (May 12) – The hottest driver on the first hot weekend of the season was Jerald Harris.
Harris first won his heat race, then went on to take the Saturday night Virginia Sprint Series feature at Natural Bridge Speedway.
Bill Rice and Chris Ware stayed side-by-side up front for the first three laps of the IMCA RaceSaver Sprint Car main event. Jerald Harris, Tony Harris and Mike Leraas were all trying to find a way by the front two before Jerald Harris made the first move and got by Ware for second.
Jerald Harris went low and to the lead leaving Rice to race with Leraas for second. Leraas got to second and was chasing Harris for the lead.
Mike Keeton and Daren Bolac made their way up as the laps clicked off, getting closer to the front. The caution-free feature went by fast as Harris caught the back of the field, staying smooth and fast all the way to the checkered flag.
Feature results – 1. Jerald Harris; 2. Mike Leraas; 3. Tony Harris; 4. Mike Keeton; 5. Daren Bolac; 6. Bill Rice; 7. Chris Ware; 8. Craig Pellegrini; 9. Tom Humphries; 10. Neil Sandridge; 11. Glenn Worrel; 12. Ben McCall.