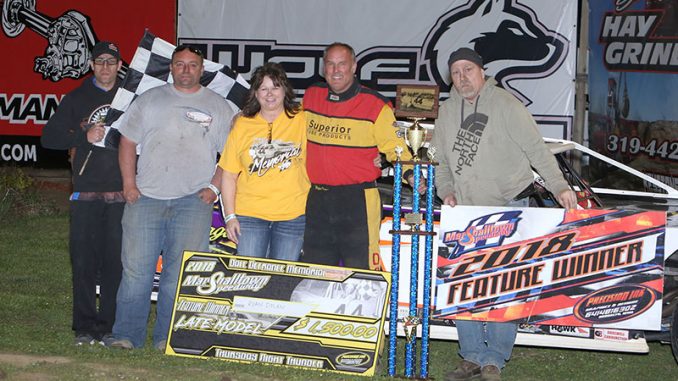 By Joyce Eisele
MARSHALLTOWN, Iowa (May 10) – Ryan Dolan raced his way into the history book as the IMCA Late Model winner at Marshalltown Speedway's inaugural Dale DeFrance Memorial.
Dolan led all but the opening circuit in the 44-lapper and earned $1,500 for the Thursday night victory.
Todd Cooney got the jump out front, early before relinquishing the top spot to Dolan, who maneu­vered his way around the shiny blackened track skillfully throughout the entire race, slicing through lap traffic easily to take the win.
Kyle Hinrichs drew close to Dolan at times, but in end was a distant runner-up.  Cooney held on to third place, Jeremiah Hurst came from 12th to finish in fourth and Darrel DeFrance was fifth.
DeFrance drove the no. 44 car during his own career. The patriarch of a racing family was a sup­porter of his children's and grandchildren's racing. One hundred and fifty cars from 10 states vied for added pay and numerous contingency awards.
Terry Phillips, already on he Fast Shafts All-Star Invitational ballot, prevailed in the $1,000 to win IMCA Modified main event that drew a stellar field of 38 drivers from all across the country.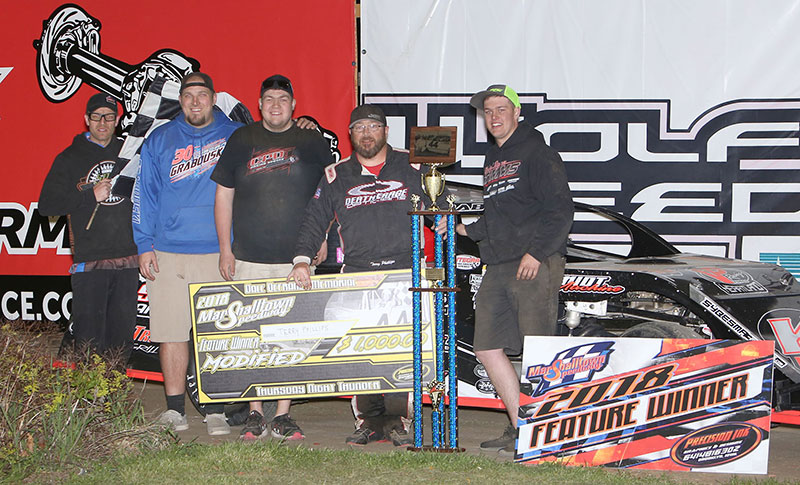 When the 25-lap feature began, Phillips jumped to the immediate lead. From his outside row one start. Phillips never relinquished that top spot, slicing through lap traffic with ease, as he motored to the win.
Johnny Scott chased Phillips most of the race, but could garner no more than second place.  Tyler Droste ran up front the entire feature and finished third.  Stormy Scott was fourth and Todd Shute rounded out the top five.
Damon Murty dominated again in the IMCA Sunoco Stock Car feature as he finished well ahead of second place Jeff Wollam. Todd Reitzler was third.
Eric Stanton limped his IMCA Sunoco Hobby Stock into victory lane with a flat tire after seeing the checkers. Stanton started 10th, took the lead on lap six and never looked back.  He finished comforta­bly ahead of Shannon Anderson, who came from 12th, and Eric Knutson, who had started 13th.
Austin Luellen duked it out in the early laps of the Karl Chevrolet Northern SportMod main with Travis Peterson and Jared VanDeest.  He won that battle to take the lead at lap five, and then led the remaining 15 laps to the checkered flag. VanDeest took the runner-up spot and Ethan Braaksma finished third in the caution-free contest.
Feature Results
Late Models – 1. Ryan Dolan; 2. Kyle Hinrichs; 3. Todd Cooney; 4. Jeremiah Hurst; 5. Darrel DeFrance; 6. John Emerson; 7. Richie Gustin; 8. Ben Seemann; 9. Joe Zrostlik; 10. Greg Kastli; 11. Kyle Krampe; 13. Randy Faux; 14. Gary Webb; 15. Curtis Glover; 16. Curt Martin; 17. Andy Nezworski; 18. Jenna Johnson; 19. LeRoy Brenner.
Modifieds – 1. Terry Phillips; 2. Johnny Scott; 3. Tyler Droste; 4. Stormy Scott; 5. Todd Shute; 6. Richie Gustin; 7. Jordan Grabouski; 8. Ronn Lauritzen; 9. Joel Rust; 10. Nick Roberts; 11. Tim Ward; 12. Ryan Gustin; 13. Mark Noble; 14. Mike Mullen; 15. Benji LaCrosse; 16. Carter VanDen­Berg; 17. Jason Snyder; 18. Gatlin Leytham; 19. Jacob Murray; 20. Racer Hulin; 21. Brian Mullen; 22. Ron Ver Beek; 23. Jimmy Gustin; 24. Jeff Aikey.
Stock Cars – 1. Damon Murty; 2. Jeff Wollam; 3. Todd Reitzler; 4. Donavon Smith; 5. Steve Meyer; 6. Trent Murphy; 7. Dave Atcher; 8. Ty Hill; 9. Darin Toot; 10. Devin Smith; 11. Russell Damme Jr.; 12. Scott Rice; 13. Tom Cannon; 14. Kevin Balmer; 15. Todd Inman; 16. Paul Shep­herd; 17. Jeff Mueller; 18. Kyle Everts.
Hobby Stocks – 1. Eric Stanton; 2. Shannon Anderson; 3. Eric Knutson; 4. John Watson; 5. Leah Wroten; 6. Dylan Nelson; 7. Solomon Bennett; 8. David Rieks; 9. Justin Wacha; 10. Tyson Overton; 11. Garrett Eilander; 12. Ryan Wells; 13. Buck Swanson; 14. Jack Phillips; 15. Ray Fees; 16. Matt Wahl; 17. Jamie Coady; 18. Luke Bird; 19. Jeremiah Andrews; 20. Andy Peck; 21. Mitchell Thomas; 22. Craig Lovig; 23. Jason Bruns; 24. Kenze Ritter; 25. Justin Lovig; 26. Ben Newhouse.
Northern SportMods – 1. Austin Luellen; 2. Jared VanDeest; 3. Ethan Braaksma; 4. Chase Ru­dolf; 5. Lance Borgman; 6. Johnathon Logue; 7, Jared Boumeester; 8. Travis Peterson; 9. Tyler Inman; 10. Jake McBirnie; 11. Joey Schaefer; 12. Dusty Masolini; 13. Adam Shelman; 14. Cory Rose; 15. Matt Webb; 16. Thomas Egenberger; 17. Ben Chapman; 18. Travis Storjohann; 19. Jack Housley; 20. D.J. Robinson; 21. Taylor Musselman; 22. Austin Howes; 23. Ryan King; 24. Tom Rawlins.