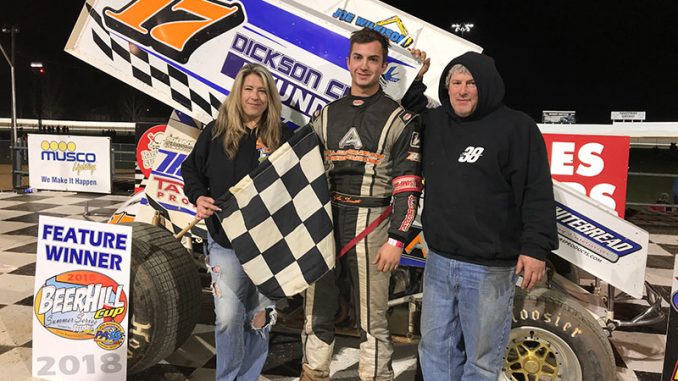 PORT ROYAL, Pa. (April 21) – Kyle Smith was the winner when the Pennsylvania Sprint Series returned to Port Royal Speedway Saturday for Beer Hill Cup race number two of the season.
Dylan Shatzer ran the middle groove while others ran the high side and led the first four laps. Chris­tian Rumsey took over up front before Smith used a lap seven restart to gain the lead.
Jeff Miller Jr. garnered a second place finish while hard-charging Darren Miller ran out of laps and set­tled for third.
Unseasonable temperatures had officials expecting a car count in the mid-20s but a warmer than anticipated weekend helped put 40 IMCA RaceSaver Sprint Cars in the pits for the Alan Kumpf benefit event.
Kumpf ran the number 40 which matched the unexpected car count. Many PASS teams made their first start of the season and Western Pennsylvania racers eager to get started traveled to the Speed Palace.
A total of $821 was raised for the family of Kumpf, who was a part-time racer for more than a dec­ade with PASS. He passed away recently at the age of 37 and is survived by a wife and three children. It was an impressive amount of generosity from the racing community once again for a driver that many people may have never met.
Feature results – 1. Kyle Smith; 2. Jeff Miller Jr.; 3. Darren Miller; 4. Christian Rumsey; 5. Dylan Shatzer; 6. Zach Newlin; 7. Ken Duke Jr.; 8. Jonathan Jones; 9. Drew Ritchey; 10. Kassidy Kreitz; 11. Nick Sweigart; 12. John Scarborough; 13. Jaremi Hanson; 14. Kyle Ganoe; 15. Josh Dressler; 16. Reed Thompson; 17. Roger Irvine; 18. Colton Hoover; 19. Fred Arnold; 20. Erin Stat­ler; 21. Stephanie Dodson; 22. Josh Guiher; 23. Andrew Hake; 24. Vince Dougherty; 25. Wally Eshenaur.