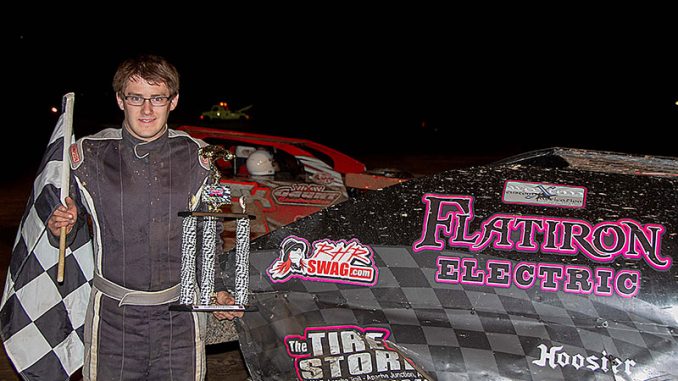 MOHAVE VALLEY, Ariz. (April 14) – Consistency has Chaz Baca on top of IMCA Speedway Motors Weekly Racing National and Larry Shaw Race Cars Western Region point standings.
Speed put him in victory lane Saturday at Mohave Valley Raceway's 25th anniversary special … twice.
Baca led the last 10 laps in winning the IMCA Modified feature, and $1,500. He also scored the $1,000 checkers in a borrowed dwarf car.
"This race has been on our schedule for about a month," he said following the four-hour tow home to Mesa. "It's the first time I've won two big money races on the same night. It feels pretty good. We were super excited."
Baca ran second in his heat, started the main event from eighth and was up to second just after midway in the 25-lapper.
He was reeling in pole starter Bill McIntosh before a caution, then took the lead after the ensuing restart.
Mike Kirby ended in second with Leland Hibdon, Clint Reichenbach and McIntosh completing the top five.
Already on the Fast Shafts All-Star Invitational ballot, Baca won for the second time this season. He's finished in the top five in nearly half of his 28 starts thus far in 2018.
"We're trying to be consistent and be in the top three, top five every race. It felt really good this weekend, especially the money," said Baca, looking to put part of that payday toward a 2018 Shaw.
Feature results – 1. Chaz Baca; 2. Mike Kirby; 3. Leland Hibdon; 4. Clint Reichenbach; 5. Bill McIntosh; 6. Ryan Roath; 7. Ronnie Meyer Jr.; 8. Brenda Kirby; 9. Bryan Wulfenstein; 10. Billy Wormsbecker; 11. Steve Simpson, Jr.; 12. Adam Marx; 13. Randy Ahrns; 14. John Clemens; 15. Bud Sturgis; 16. Paul Hurns; 17. Cameron Williams; 18. Kelsie Foley; 19. Bobby Ziello; 20. Patrick McIntosh.