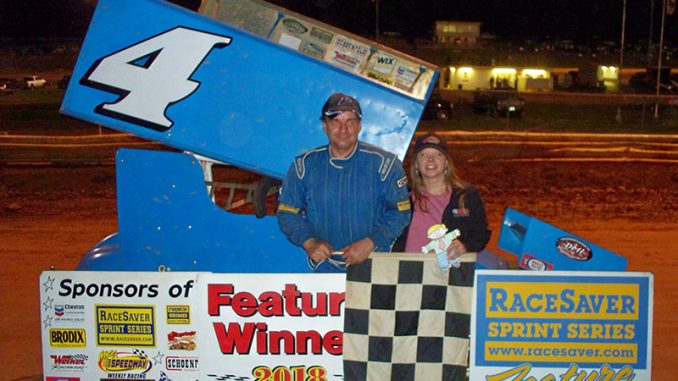 By Jim Haines
NATURAL BRIDGE, Va. (April 14) – Spring finally sprung for the Virginia Sprint Series and An­thony Linkenhoker sped to the IMCA RaceSaver victory Saturday at Natural Bridge Speedway.
Mike Keeton challenged throughout in a contest that ran caution-free and ended in second. Daren Bo­lac was third in the series opener, postponed a week because of winter-like weather.
Linkenhoker and Keeton paced the field to green with Linkenhoker out first, Keeton close behind and Tony Harris up to third. Bolac got by Harris and went after Keeton lap after lap, but the bot­tom was the place to be and he stayed there.
Linkenhoker stayed smooth up front even as he caught the rear of the field and that was all he needed to do as he drove under the waving checkered flag.
Next it's back to Shenandoah Speedway on Saturday, April 21.
Feature results – 1. Anthony Linkenhoker; 2. Mike Keeton; 3. Daren Bolac; 4. Tony Harris; 5. Tom Humphries; 6. Jerald Harris; 7. Bill Rice; 8. Jake Karklin; 9. Chris Ware; 10. Neil San­dridge.