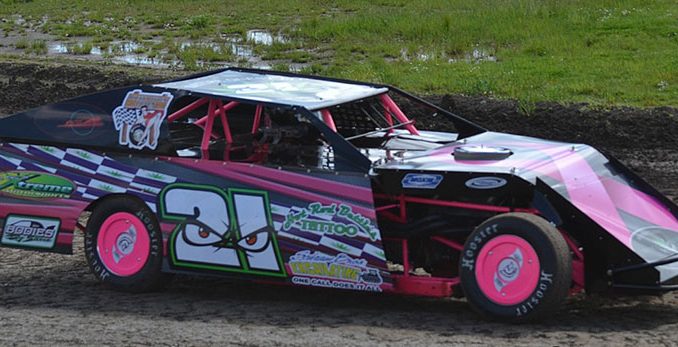 By Ben Deatherage
SCIO, Ore. – Wednesday, April 4 was a special day for Steve and Andrea Moore at the 2018 Vic­tory Visit.  Their race team, Xtreme Motorsports, donated approximately $6,000.00 to Shriners Children's Hospital in Portland towards pediatric cancer research.
The money was raised by selling Racing For Life window ribbon stickers throughout the course of the 2017 race season.
"Andrea and I wanted it to go to anything they do involving childhood cancer research," com­mented Steve Moore. "We're so glad that we can help these kids out. Unfortunately, I was ill but I was glad that Andrea could make it and be a part of the Victory Visit."
"I want to send out a huge shout out to my wife Andrea who was such a big part of handling all of the sales at the track.  Also, this would not be possible with all of the help from Loren and Val Kruesi as well as the entire Xtreme Motorsports crew," he added. "In addition, I want to thank all the racers and fans who donated whether they have or have not been effected by cancer in their lives."
In 2018, the Moores will shift their focus to raising awareness to suicide prevention. Although no plans are in the works at this moment for a fundraiser they will be handing out literature to help prevent suicides in the local community.
"Unfortunately, both my wife and I have lost people to suicide and we want to help folks out and prevent these terrible things from happening," said Moore.
Xtreme Motorsports will continue selling Racing For Life window sticker ribbons and those will go to a cancer charity while supplies last. Purchases can be made at the track where Moore is racing or by contacting him at 541 990-8087.
Shriners Hospitals for Children is a network of 22 non-profit medical facilities across North Amer­ica. Children with orthopedic conditions, burns, spinal cord injuries, and cleft lip and palate are eligible for care and receive all services in a family-centered environment, regardless of the pa­tients' ability to pay.