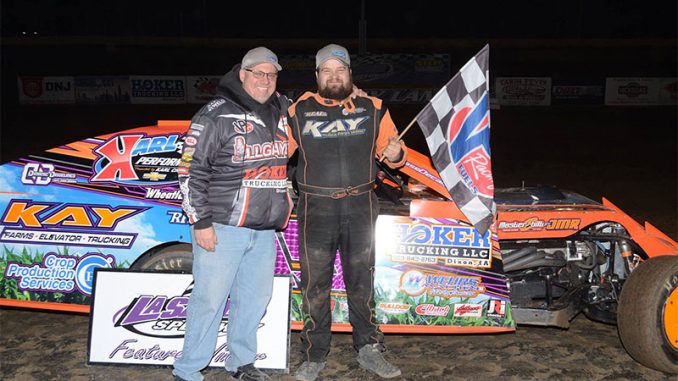 LaSALLE, Ill. (March 30-31) – Justin Kay continued his LaSalle Speedway success on opening night while Hunter Marriott raced to yet another IMCA Modified special event win on night two of the Thaw Brawl.
Kay had swept One Night Stand Late Model and Modified mains at LaSalle two years ago, then topped the Late Model feature there last August. He turned back the clock to an old setup and pocketed $1,000 for taking the Friday night Modified checkers.
Marriott made his first-ever visit to LaSalle and followed his opening night third-place run with the $1,200 Saturday victory, his 10th – in four different states – so far in 2018.
Both drivers were already on the Fast Shafts All-Star Invitational ballot.
After drawing the pole, Kay led all 20 circuits in a contest punctuated by numerous yellows. Allen Weisser and Marriott did their best to stay close and finished second and third, respectively.
"It seemed like I could always hear somebody," the two-division star and defending national Late Model champion said. "It was my first race of the year and it was nice to get that first win right away."
Matt Werner and John McClure rounded out the top five.
Marriott started fifth and was in front midway through Saturday's 25-lapper. He pulled away in lapped traffic to win the caution-free feature ahead of Werner, Kay, Jaden Fryer and Tim Hamburg.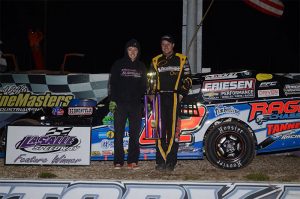 "We went out for our heat the first day and were way off. We pinpointed some things and got the car more stable," Marriott said. "It was a good weekend for us."
Dustin Schram was the $600 Karl Chevrolet Northern SportMod winner on Friday, ahead of Austin Becerra and Austin Howes.
2017 national champion Tyler Soppe led the way to the $650 checkers on Saturday. Second was Hunter Longnecker and Justin Green took third.
March 30 Feature Results
Modifieds – 1. Justin Kay; 2. Allen Weisser; 3. Hunter Marriott; 4. Matt Werner; 5. John McClure; 6. Gary VanderMark; 7. Daniel Roedl; 8. Chad Holladay; 9. Austin Blume; 10. Randy Foote; 11. Jason Buss; 12. Eric Barnes; 13. Mark VerVynk; 14. John Ahlers; 15. Travis Denning; 16. Tyler Madigan; 17. Chase Parker; 18. T.J. Smith; 19. Ray Bollinger; 20. Rob Toland.
Northern SportMods – 1. Dustin Schram; 2. Austin Becerra; 3. Austin Howes; 4. Ben Chapman; 5. Shane Paris; 6. Bill Edler; 7. Austin Heacock; 8. Brandon Setser; 9. Brandon Tharp; 10. Travis Hansen; 11. Kevin Goben; 12. Sawyer Haese; 13. Chance Huston; 14. Ryan Reed; 15. Tyler Soppe; 16. Hunter Longnecker; 17. Scott Busch; 18. Justin Green; 19. Brandt Cole; 20. Tim Sheppard.
March 31 Feature Results
Modifieds – 1. Marriot; 2. Werner; 3. Kay; 4. Jaden Fryer; 5. Tim Hamburg; 6. Toland; 7. Foote; 8. McClure; 9. Andrew Hamburg; 10. Madigan; 11. Blume; 12. Gary VanderMark; 13. Mike VanderMark; 14. Buss; 15. Mike Knurr; 16. Joel Crowbridge; 17. Al Atkinson; 18. Cody Johnson; 19. Chad May.
Northern SportMods – 1. Soppe; 2. Longnecker; 3. Green; 4. Schram; 5. Setser; 6. Paris; 7. Chapman; 8. Johnathon Logue; 9. Levi Laymon; 10. Reed; 11. Huston; 12. Richard Nelson; 13. Andrew Swailes; 14. Edler; 15. Cody Leyman; 16. Dustin Forbes; 17. Skylar Woods; 18. Cole; 19. James Roose; 20. Heacock; 21. Goben; 22. Jacob Copley.