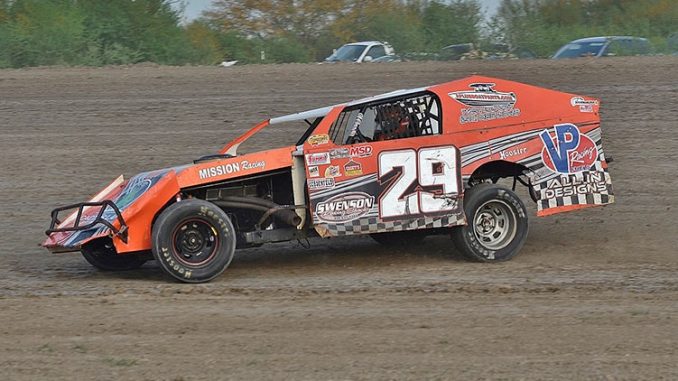 By J.M. Hallas
PLEASANTON, Texas (March 24) – To say Jamie Campbell's road to the winner's circle Satur­day at I-37 Speedway was eventful might be an understatement.
Campbell, who started eighth in the IMCA Modified feature, got clipped in a grinding lap three crash, taking some extensive body damage to the car. Then, while running third, he narrowly es­caped contact with Talon Minten who spun directly in his path.
That caution, the fifth of the night, saw officials call for a green, white, checkered finish on time limit. Race-long leader Dillon Tindall got a good restart, but Campbell quickly closed back in. On the white flag lap they were side by side going into turn three. Campbell used the momentum off the high line to edge out Tindall at the line by about a bumper to steal the win.
"That was pretty cool," Campbell said of his last-lap pass. "I've done it here before but it's been a long time. It means a lot because I struggled so much last year with this car, especially on the dry slick tracks. We worked on it over the winter, did some testing, went to other tracks and stumbled on some stuff that's working good."