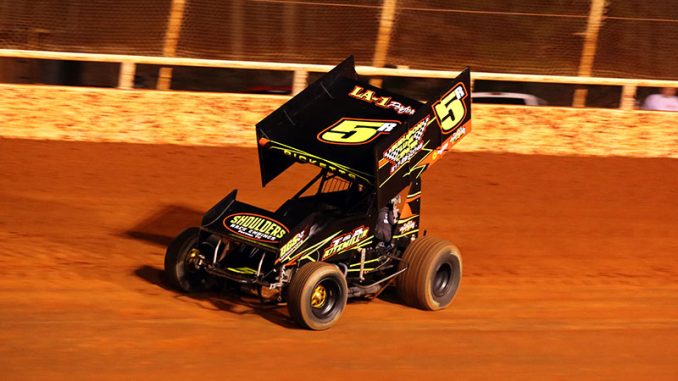 KILGORE, Texas – John Ricketts was the winner when a pair of former national champions bat­tled it out Saturday at Lone Star Speedway.
Ricketts caught up with Chad Wilson 17 circuits into the 25-lap Smackdown main event for IMCA RaceSaver Sprint Cars, then worked lapped traffic en route to the $1,200 checkers.
"With the people in front of me, I didn't think I had a shot at winning but we had luck on our side," said Ricketts, who had started seventh. "It's not every day you can pass Chad in clean air. Usu­ally when he gets up front, he's gone."
Wilson, IMCA's 2015 national champion, was running second when the lead car and a lapped car tan­gled and restarted at the front.
Ricketts stayed in the high line to chase down Wilson and get the lead two laps later. He passed two cars on the final lap and had a half a straightaway advantage at the end.
"We had a good car and we're excited about the win," said Ricketts, the 2013 national king. "Get­ting $1,200 was definitely a good way to start the season."
Michael Day, Gary Floyd and defending national champion and two-time Smackdown winner Marcus Thomas rounded out the top five.
Feature results – 1. John Ricketts; 2. Chad Wilson; 3. Michael Day; 4. Gary Floyd; 5. Marcus Thomas; 6. Channin Yankersley; 7. Logan Payne; 8. Alan Ray Myers; 9. Chad Koch; 10. Josh Hawkins; 11. Claud Estes III; 12. Shane Gloecker; 13. Regan Hawkins; 14. Shane Thompson; 15. Rob­ert Vetter; 16. Logan Scherb; 17. Chance McCrary; 18. Boddy Middleton; 19. Tommy Hall; 20. Aus­tin Mundi; 21. Mike Scott.